Hello lovelies! Here I am back again wondering how August came and how we are...close to 4 months from ending this year...but summer is still hot in this small side of the world in Greece and I am finally back from Apollycon!
It was an unforgettable experience! I got to meet some of my favorite authors, meet with new ones and also finally get in touch with my awesome friends and fellow Jennifer Armentrout fans. And for those of you who were not able to attend stay tuned for I have some goodies giveaway for you!
But let us backtrack and talk about the event that I will describe as...the Odyssey.
I was preparing my suitcase when I got an email that my plane tickets were canceled. Meaning that there was a 50-50 chance of not being able to attend in the case they would not be able to rebook the tickets. I was not a good sight preparing the books but also crying at the possibility. But thankfully Seth made his miracle and I would be able to reach Washington after first flying to San Fransisco, then to New York, and then to DC.
Leaving Greece
Somewhere over Europe
But alas I made it after moving back and forth in time and time zones lol. I have to give major thanks to my bookish family of AoA who waiting for me at the airport after I had a small issue with my luggage and the excitement we all shared as we finally met each other. Kim, Tammy, Pia, Mica, Mariana, Eirini, Vonneta, Lisa, and Autumn are a few of the amazing people I had the joy to meet and gush over JLA men.
As a Titan Pass holder, I had some extra activities and items which came with registration. Like the exclusive edition of A Shadow in the Ember and the From blood and Ash edition that was given during the brunch event.
Night 1: The Sourcebooks Casablanca event.
This was a very fun experience! I got to meet various authors and even have some sit with my friends like Amalie Howard! There were cocktails, cookies and ice cream, the best combination. And then I had the joy of meeting some of my favorite authors!
Our table name (because yes we love steamy books)
The gorgeous Maria Vale, author of the Legend of All Wolves series
My beloved Laura Thalassa, author of the Four Horsemen series
and other amazing books
(Ignore my face it's me trying not to cry)
Day 2: Titan Signing
This day was filled with amazing books and moving around tables and chatting with different authors. I got to sign my JLA books and also my copy of The Love Hypothesis by freaking ALI HAZELWOOD! There were other ticketed authors too in order to keep a system because we are all crazy with books here.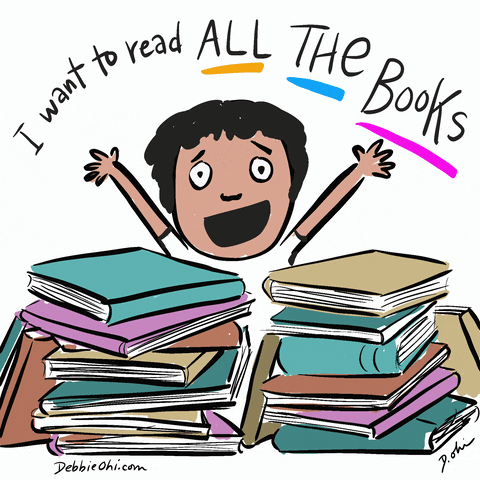 Barnes and Noble had set up a small bookstore inside the hotel with also Harry Potter-related candies!
It was also amazing because a day earlier I had finally visited the bookstore and was awed by the fact they had a Starbucks with tables inside? A book lovers dream.
Waiting for the signing in the queue along with my besties. Each one of us with piles of books to be signed.
And when the doors opened? We got to move between tables and see them all. Some examples below. (ignore my poor tired eyes, jet lag caught with me)
With Amalie Howard.
With Elise Kova who recognized me from her Tower of Guard group!
The beautiful table set with Maria Vale's books
Images from one of the signing rooms
My goddess Jennifer Armentrout at work (her lines were huge but she stayed till late in order to sign everything)
Later at night at the Sparklr event with author Avery Flynn! (she commented on my shoes and we ended up chatting about her books)
Day 3: General signing day for all ticket holders
The third day started with the attempt to get my Book Beau Apollycon special edition signed. This was a book sleeve which had a silver sharpie which you could use to get it signed if you didn't have books, a genius idea for me which I'd love to see in future Apollycon events too (in the last pictures you can see it). I also got to see the Historical Romance triad: Sophie Jordan, Tessa Dare and Sarah MacLean and we chatted about their books being translated to Greek.
Waiting with my besties: (from left to right) Eirini, Mariana, Kim and Mica
Le chaos
With Laura Thalassa, Eirini and her Pestilence
And thank you so much Tarrah for making my day! I sincerely apologize if I looked like a deer in the headlights because I've never been recognized due to the blog. Being a fan means a lot to me so thank you for all the love! You were very sweet and I hope we'll meet again!
With Tessa Dare. I seriously wanted to hug all of them
With my dear Sarah MacLean who was very generous with her readers and also I hope to get the chance to meet again
With ALI FREAKING HAZELWOOD! You can't see my face but I am smiling like a maniac (also my book beau at the bottom right). She signed my copy of The Love Hyposthesis and as a fellow woman in academia we got the feel and shared our fellow obsession over Kinder chocolate.
Later tonight at the After Party
Day 4: The Brunch and Q/A event
This last day of Apollycon found me and my friends first table right in front of Jennifer and Blue Box Publications. Before the Q/A we were treated to a nice brunch and also we got the Apollcon edition of FBAA along with the Book Beau.
After that there were some questions answered and I braved my introvert self and asked if we may ever visit The Titan series so we may have a Seth sequel (she recognized me from the JLanders and I almost fainted from feels.) She didn't say no? But at the time no, maybe in the future (which is true since she writes like two series at the same time). And yes I am a Seth fan, deal with it :P
And after that I had a few hours with my friends in Washington walking our way around Capitol which was also amazing! It was a bittersweet ending: I wanted this to last more days, I wanted to stay with my friends but at the same time I had the chance to spend a few days with similar-minded people who get my love for books and reading; to see authors who I have bee reading their books for close to a decade and talk with them, to have fun after these challenging years with the pandemic.
And for those days I am deeply grateful.
My book haul: I ledt Greece with two books...and came back with an extra suitcase, because nothing would fit plus I had swag!
From left to right: The wedding date disaster by Avery Flynn, the two Book Beaus Apollycon special editions and you can see the one signed, Brazen and the Beast by Sarah MacLean, The Nightingale Anthology, the Apollycon special edition of ASITE, the Apollycon social edition of FBAA,, my copies of Lux Beginnings and The Love Hypothesis, the Bargainer bundle and the Horsemen series by Laura Thalassa, A Wolf Apart & Forever wolf by Maria Vale.
An addition below from the JLA shop were the tote bag of Apollycon and the mug while the other tote bag was part of the Titan ticket. The mug/tumbler has a handle which I prefer and the quote: "Mmm caseroles".
The signed books. I admit it: I teared up when I went back to the hotel room.
A close up of ASITE
GIVEAWAY
OPEN INT
Rules:
- no fake accounts
-winner has 48 hours to reply to the email sent to them if they win, if not, the prize goes to the next winner
a Rafflecopter giveaway