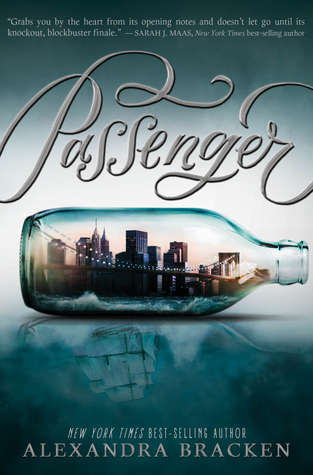 Passenger by Alexandra Bracken
My rating: 5 of 5 stars
Summary from GoodReads
Passage
, n.
i. A brief section of music composed of a series of notes and flourishes.
ii. A journey by water; a voyage.
iii. The transition from one place to another, across space and time.
In one devastating night, violin prodigy Etta Spencer loses everything she knows and loves. Thrust into an unfamiliar world by a stranger with a dangerous agenda, Etta is certain of only one thing: she has traveled not just miles but years from home. And she's inherited a legacy she knows nothing about from a family whose existence she's never heard of. Until now.
Nicholas Carter is content with his life at sea, free from the Ironwoods—a powerful family in the colonies—and the servitude he's known at their hands. But with the arrival of an unusual passenger on his ship comes the insistent pull of the past that he can't escape and the family that won't let him go so easily. Now the Ironwoods are searching for a stolen object of untold value, one they believe only Etta, Nicholas' passenger, can find. In order to protect her, he must ensure she brings it back to them—whether she wants to or not.
Together, Etta and Nicholas embark on a perilous journey across centuries and continents, piecing together clues left behind by the traveler who will do anything to keep the object out of the Ironwoods' grasp. But as they get closer to the truth of their search, and the deadly game the Ironwoods are playing, treacherous forces threaten to separate Etta not only from Nicholas but from her path home... forever.
BUY ON
And don't miss the second and final book of the series! re-order now!
This review has been long overdue. I had the copy bought on February yet I was able to finish the book in May! And knowing Alexandra Bracken's style from her debut series, I was very pleased with the story!
Etta is a violin prodigy. Living with her mother and her mother's best friend, she knows little about her mother's past and mostly she is focused on her playing. But when she is forcefully taken back into the 18th century and straight into the ship of Nicholas Carter. From there bothEtta and Nicholas will be thrust into and adventure through time and space in order to find what the Ironwoods are looking for and even discover more about the past of Etta's mother.
Now, the tricky part in writing a time travel novel is how well you can describe the time period you set your characters in and also how well you can make the readers feel as they read the scenes. I found no issue as I read the book and trust me both Etta and Nicholas travel a lot in this book.
Etta is a strong heroine. Not in the manner of being a bad ass but as a smart girl with wits and inner strength. She understands from the start that she is not in the 21st century anymore and she tries to learn more about the situation she is in.
Nicholas on the other hand, despite his need to escape the clutches of the Ironwoods, still falls for Etta. And the beauty of their romance is the diversity of it. Nicholas is, what would be called in the 18th century, biracial making his social status even more difficult. His upbringing demands not even to consider having romantic feelings for Etta and so it gives you a bittersweet feeling in their relationship.
I will definitely read the second book because after this cliffhanger-ish ending, I really am quite giddy of how this series will end! If you like time travel and a sweet romance like that then this is your book! ;)
(If you get the gif you know what I mean!)
About the author:
I'm Alex. I write about
telekinetic teens
and
floppy-haired wizards
. I love Star Wars,
classic rock
, and 18th-century gentlemen. When I'm not up at 4 AM writing, you can find me running around the DC area, where I now live and write full time.