Welcome to the Release Blitz for the 6th book of my favorite series! "Forbidden Men" by Linda Kage seeks stories of men who in one way or another are trouble but in the end love always wins! Read my review below and don't miss the chance to enter the giveaway!!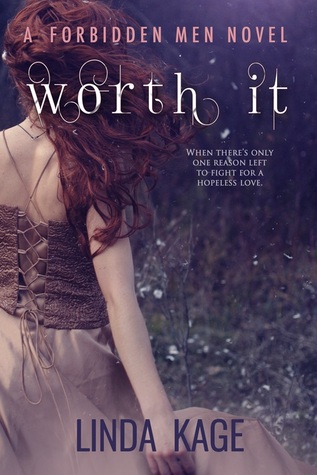 Worth It by Linda Kage
(Forbidden Men #6)
Publication date: August 25th 2015
Genres: Contemporary, New Adult, Romance
Summary from GoodReads
I fell in love once.

It was amazing. She was amazing. Life was amazing.

I lived for each time I could see her, and nothing else mattered, not that our families were enemies, our time together was forbidden, or we had to meet in secret.

Our love could conquer all.

Until it didn't.

So I was ripped away from the love of my life and shoved into hell, forced to continue without her.

It shattered me, broke the best parts of me, left me permanently damaged.

Or so I thought.

Years later, I swear history's trying to repeat itself because she's back in my life, and I'm just as drawn to her as I was before. But I'm older and wiser now, and I know she should stay away from a worthless ex-con like me.

So, I will not let her in. I absolutely refuse to hurt her. I will keep her away.

Then again, sometimes risking your greatest fear to get to a smile makes everything worth it, and besides, I'm not sure I can resist her, anyway.

This is the story of how Felicity Bainbridge changed my life forever, starting one summer day long ago after I was forced to change a dirty diaper...

--Knox Parker
BUY THE BOOKS ON AMAZON (click the covers)
REVIEW
I received an ARC in exchange for an honest review!
If you have been following me, you should know that few authors have managed to make me both laugh and cry, especially on the New Adult genres. Linda Kage is one of them. Her series "Forbidden Men" has caught my attention and since 2014, I have been a fan of those characters who struggle, love and finally find their other half.
Knox and Felicity are the next couple of the series who through a series of meetings get to be connected with other know characters, like Pick, Ten and Eva.
I loved the double POV and the change between past and present from chapter to chapter. We get more feelings on Knox's and Felicity's growing relationship which in a way forms the present of the characters.
Of course my favorite one, Ten, is the goofy of the book with his dirty mouth and the punches he gets from everyone. Knox also learns to deal with the horrible past he had to endure, which proves that in the end you need someone to rely into and love you, despite your flaws or past.
An amazing sequel, which also makes me need the next one!! :)
About the author:
GIVEAWAY:
Blitz-wide giveaway (INTL)
$20.00 Amazon Gift Card
3x Paperback + Swag copies of Worth It
5x Ebooks of Worth It
Swag Only package
a Rafflecopter giveaway