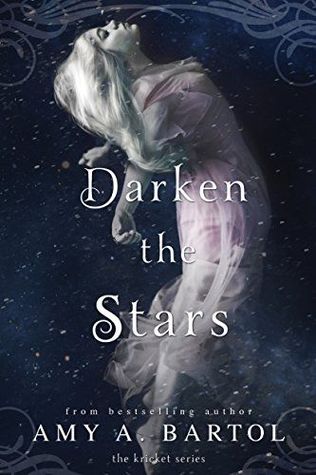 Darken the Stars by Amy A. Bartol
My rating: 3 of 5 stars
Summary from GoodReads
Kyon Ensin finally has what he's always wanted: possession of Kricket Hollowell, the priestess who foresees the future. Together, their combined power will be unrivaled. Kricket, however, doesn't crave the crown of Ethar—she has an unbreakable desire to live life on her own terms, a life that she desperately wants to share with her love, Trey Allairis.
As conspiracies rage in the war for Ethar, Kricket's so-called allies want to use her as a spy. Even those held closest cannot be trusted—including Astrid, her sister, and Giffen, a member of a mysterious order with a hidden agenda. But Kricket's resolve will not allow her to be used as anyone's pawn, even as the Brotherhood sharpens its plans to cut out her heart.
As the destiny prophesied by her mother approaches, Kricket will backtrack through her fiery future to reshape it. For she knows one thing above all else: the only person she can truly count on is herself.
BUY ON AMAZON (click the covers for more details)
REVIEW
I received an ARC from NetGalley in exchange for an honest review!
How should I express my feelings for this book? Don't let my three stars scare you.
I loved the book. Amy managed to keep me on edge with the action the mystery and the growing abilities of Kricket's. How she and Kyon worked together against their common enemy but there were some unsettling things which I hope will be solved in the NEXT SEQUEL! (note the capitals. I DO NEED IT!)
As always I loved the sci-fi element and the good use it has in the book. The descriptions were so detailed it made me wish I had all these techno candies all to myself!
But I had an issue with Kricket. I understood that she thought that she wouldn't see Trey again but what she did? Honestly i didn't like it. Not at all. Despite her power and sassy attitude she STILL thinks herself as lower than others. It was unsettling seeing a strong heroine with such low self confidence, self-esteem and all the lows!
We don't see much Trey which made me sad... but the ending had left unsolved a love triangle, yet another cliffhanger which I hope it will be solved in the next book.
Final words? Loved it, I have some issues and I need the next book now!
About the author:
Author of Inescapable: The Premonition Series (Volume 1), Intuition: The Premonition Series (Volume 2), Indebted: The Premonition Series (Volume 3) , and Incendiary: The Premonition Series (Volume 4). Currently working on a fifth novel in the Premonition Series entitled Iniquity.
Under Different Stars (Kricket Series Book 1)
Sea of Stars (Kricket Series Book 2)
Darken the Stars (Kricket Series Book 3) --Release Day 9/8/15 *pre-order available on Amazon.com
The Divided - A Science Fiction Romance short story, which is included in the Take Me To Your Reader: An Otherworld Anthology.
I live in Michigan with my husband and our two sons. My family is very supportive of my writing. When I'm writing, they often bring me the take-out menu so that I can call and order them dinner. They listen patiently when I talk about my characters like they're real. They rarely roll their eyes when I tell them I'll only be a second while I finish writing a chapter…and then they take off their coats. They ask me how the story is going when I surface after living for hours in a world of my own making. They have learned to accept my "writing uniform" consisting of a slightly unflattering pink fleece jacket, t-shirt, and black yoga pants. And they smile at my nerdy bookishness whenever I try to explain urban fantasy to them. In short, they get me, so they are perfect and I am blessed. Please visit me at my website:
www.amyabartol.weebly.com