Hello and welcome to yet another audiobook series review! Learning about Rae Carson was a surprise for me! I got to read her first trilogy "The Girl of Fire and Throns" AFTER finding out about her second series "Walk on Earth a Stranger". Below you will see a complete review of the series, without spoilers (so you can have all the mystery you want) as also amazon affiliate links so you can order and pre-order the books or the audiobooks!
Let the adventure begin!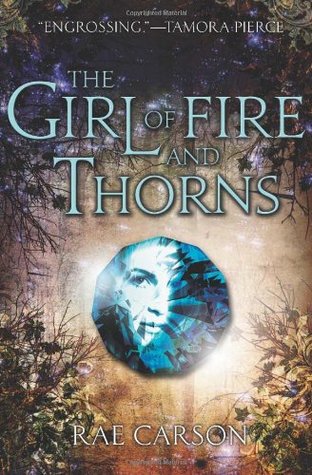 The Girl of Fire and Thorns by Rae Carson
My rating: 4 of 5 stars
Summary from GoodReads
Once a century, one person is chosen for greatness.
Elisa is the chosen one.
But she is also the younger of two princesses, the one who has never done anything remarkable. She can't see how she ever will.
Now, on her sixteenth birthday, she has become the secret wife of a handsome and worldly king—a king whose country is in turmoil. A king who needs the chosen one, not a failure of a princess.
And he's not the only one who seeks her. Savage enemies seething with dark magic are hunting her. A daring, determined revolutionary thinks she could be his people's savior. And he looks at her in a way that no man has ever looked at her before. Soon it is not just her life, but her very heart that is at stake.
Elisa could be everything to those who need her most. If the prophecy is fulfilled. If she finds the power deep within herself. If she doesn't die young.
Most of the chosen do.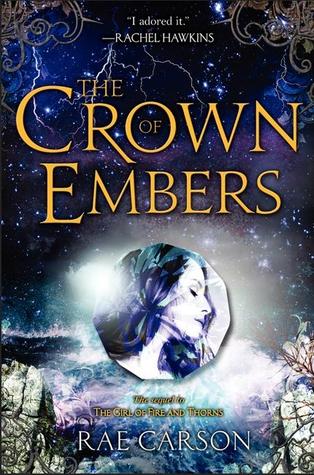 Summary from GoodReads
She does not know what awaits her at the enemy's gate.
Elisa is a hero.
She led her people to victory over a terrifying, sorcerous army. Her place as the country's ruler should be secure. But it isn't.
Her enemies come at her like ghosts in a dream, from foreign realms and even from within her own court. And her destiny as the chosen one has not yet been fulfilled.
To conquer the power she bears, once and for all, Elisa must follow a trial of long-forgotten—and forbidden—clues, from the deep, hidden catacombs of her own city to the treacherous seas. With her go a one-eyed spy, a traitor, and the man whom—despite everything—she is falling in love with.
If she's lucky, she will return from this journey. But there will be a cost.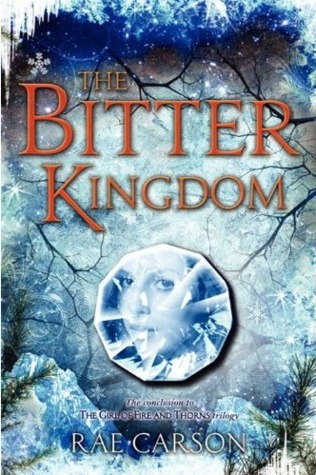 My rating: 5 of 5 stars
Summary from GoodReads
The champion must not waver.
The champion must not fear.
The gate of darkness closes.
Elisa is a fugitive.
Her enemies have stolen the man she loves, and they await her at the gate of darkness. Her country is on the brink of civil war, with her own soldiers ordered to kill her on sight.
Her Royal Majesty, Queen Lucero-Elisa né Riqueza de Vega, bearer of the Godstone, will lead her three loyal companions deep into the enemy's kingdom, a land of ice and snow and brutal magic, to rescue Hector and win back her throne. Her power grows with every step, and the shocking secrets she will uncover on this, her final journey, could change the course of history.
But that is not all. She has a larger destiny. She must become the champion the world has been waiting for.
Even of those who hate her most.
BUY ON AMAZON (click the covers)
BOOKS
AUDIOBOOKS
The Girl of Fire and Thorns
The Crown of Embers (Sequel to The Girl of Fire and Thorn)
The Bitter Kingdom
PRE-ORDER RAE CARSON'S NEW BOOK
REVIEW
L
ucero-Elisa, youngest princess and a Chosen is getting married with King Alejandro of the neighbor kingdom. There is tiny problem though; despite her sharp intelligence and well manners, she is a chuby 16 years old girl with a love for coconut scones and also every time she prays the Godstone on her navel pulses with energy.
Now this is very interesting. Rae Carson escapes from the stereotype of the white-skinned heroine, who also is aloof or thin, and introduces us to Elisa who uses her mind and knowledge to weave through Alejandro's court. Eveyone believe that she is a guest but in truth Elisa's family married her off in order to secure her from her true destiny which concerns her Godstone.
Her only friends are Hector, the Commander of the Palace Gurad, and the king's young son. From the first chapters we have action and politics and when Elisa is abducted, her travelings will become inspiring to the people aound her and of course traveling through desert for months can cause anyone to lose some pounds. ;)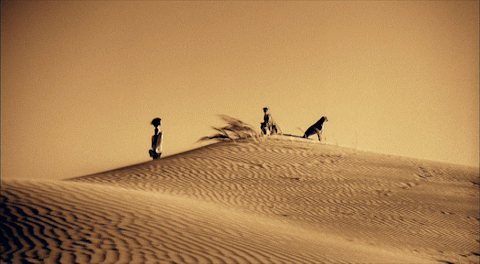 Humberto, Cosme, Belen and many more characters will help Elisa on her journey to the end of the first book, where the mystery thickens and a sudden death made me cry. (you know I do cry over fictional characters right?)
The next books I would say they are a part of a bigger one, where Elisa again heads onto a new journey across the seas and over the snow covered mountains. You cannot imagine what will happen to her and her friends but every page, or the narrator's voice, are worth it!
Now the ending was very satisfying which also can lead to the reader to believe that Elisa and her friends will always venture to more adventures and seek even more secrets! There is a perfect mix of adventure, action, humor and romance!
About the author:
I write books about teens who must do brave things. I'm originally from California, but I now live in Arizona with my husband, who is the smartest and therefore sexiest man I know. My books tend to contain lots of adventure, a little magic and romance, and smart girls who make (mostly) smart choices. I especially love to write about questions I don't know the answers to.
http://raecarson.com/