Raven Unveiled by Grace Draven
My rating: 5 of 5 stars

Summary from GoodReads
A woman with the gift to speak to the dead—and the assassin pursuing her—may be the only chance a crumbling empire has of holding back true evil, in this electrifying fantasy romance from the USA Today bestselling author of Radiance.
Siora has been on the run for longer than she cares to remember, from her past and her gift. Born with the ability to see and speak to ghosts, she has heard their desperate pleas as an otherworldly predator stalks the dead amid the fertile killing fields of the collapsing Krael Empire. The creature's power and reach are growing with every soul it consumes, but Siora is preoccupied with her own troubles: namely an assassin who has sworn an oath of vengeance against her.
Gharek of Cabast was once the right-hand man of the reviled empress but is now a wanted fugitive. Although his reasons for hunting Siora are viscerally personal, what Gharek can't anticipate is that when he finally does find her, she will hold the key to saving his world, or what's left of it. To make good on old debts and protect the vulnerable dead from a malevolent force, Gharek and Siora will both need to make an ally out of an enemy—and trust that will be enough to save each other.
BUY ON
The final book of the Fallen Empire series takes across a war-torn crumbling world where a man seeks revenge against a woman whose eyes see more than they should.
The Krael Empire has fallen and Gharek, the now-burnt-to a crisp- Empress is seeking Siora the woman whom he had trusted with his daughter's caretaking and who to his eyes had betrayed his trust. Siora on the other hand has the ability to see ghosts and their pleas lead her toward an old abandoned city where a sinister force is seeking to devour everything both dead and alive.
As politics and danger bring both of them together they will need to put away their old feuds in favor of both saving their lives and that of the child they both care about.
I always enjoy Grace's writing, there is a strong sense of world-building and the characters are never lost in it. You can understand how their feeling affects those around them and the setting enhances those scenes. Gharek and Siora were amazing; both flawed both tortured by the past but both love so fiercely even if they do not want to admit it to each other. I enjoyed this book as much as I had the others. While for some plot-wise there is not much action there is this sense of urgency that drives them to beat this unseen enemy.
This was a very satisfying ending to a series that could easily be on par with other fantasy-based worlds of Empires, ruthless emperors, and people filled with magic who love fiercely. Definitely recommended
About the author: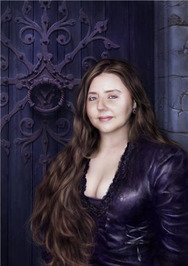 Grace Draven is a Louisiana native living in Texas with her husband, kids and a big, doofus dog. She has loved storytelling since forever and is a fan of the fictional bad boy. She is the winner of the Romantic Times Reviewers Choice for Best Fantasy Romance of 2014 and 2016, and a USA Today Bestselling author.