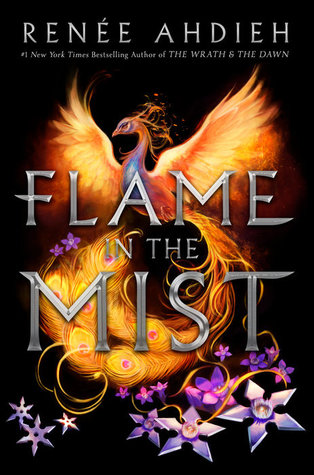 Flame in the Mist by Renee Ahdieh
My rating: 5 of 5 stars
Summary from GoodReads
From the #1 New York Times bestselling author of The Wrath and the Dawn, comes a sweeping, action-packed YA adventure set against the backdrop of Feudal Japan where Mulan meets Tamora Pierce.
The daughter of a prominent samurai, Mariko has long known her place—she may be an accomplished alchemist, whose cunning rivals that of her brother Kenshin, but because she is not a boy, her future has always been out of her hands. At just seventeen years old, Mariko is promised to Minamoto Raiden, the son of the emperor's favorite consort—a political marriage that will elevate her family's standing. But en route to the imperial city of Inako, Mariko narrowly escapes a bloody ambush by a dangerous gang of bandits known as the Black Clan, who she learns has been hired to kill her before she reaches the palace.
Dressed as a peasant boy, Mariko sets out to infiltrate the ranks of the Black Clan, determined to track down the person responsible for the target on her back. But she's quickly captured and taken to the Black Clan's secret hideout, where she meets their leader, the rebel ronin Takeda Ranmaru, and his second-in-command, his best friend Okami. Still believing her to be a boy, Ranmaru and Okami eventually warm to Mariko, impressed by her intellect and ingenuity. As Mariko gets closer to the Black Clan, she uncovers a dark history of secrets, of betrayal and murder, which will force her to question everything she's ever known.
PRE-ORDER ON
I received an e-ARC from Netgalley in exchange for an honest review.
When I first learned about this book my mind screamed "MULAN"! Well, I was close in the end. Just missed a little in geography.
Flame in the Mist takes place in Feudal Japan, where emperors rule, samurai fight and beautiful geiko dance and sing. The story is not only about Mariko-chan, the protsgonist but it also covers almost all the characters of the book.
Told in third POV, this book was a beauty of historical details. It's obvious that Renee did a stellar job in her research in order to give the best image of how the people lived and the traditions they believe.
Mariko is a strong character, albeit a little too curious for her own good. She doesn't want to become a bride, sold and bought, she has plans and she is smart. Her meeting with the Black Clan, even if it is mysterious, gives to Mariko the chance to explore herself. And the romance was slow-burn too!
Okami, Ranmaru, the imperial brothers, even the politics in the Palace were interesting. But the best part of the book was when they visted Hanami and the geiko district. If you've watched "Memories of a Geisha" you'll understand!
Flame in the Mist, despite not giving too much of the plot away, captured me with its gorgeous world-building, the quick pace and the characters. Rennee Ahdieh is an auto-buy author and her transition from Arabia to Japan was flawless! Recommended!
About the author: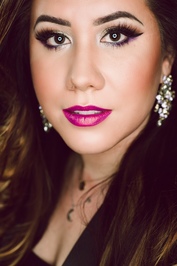 I live in North Carolina (Go Heels!) with my husband Victor and our dog Mushu. In my spare time, I like to cook, mess with makeup, and wreak havoc on the lives of my characters.
Author's site
What to Say Next by Julie Buxbaum
My rating: 5 of 5 stars
Summary from GoodReads
Sometimes a new perspective is all that is needed to make sense of the world. From New York Times bestselling author Julie Buxbaum comes a charming and poignant story about two struggling teenagers who find an unexpected connection just when they need it most. For fans of Sophie Kinsella, Jennifer Niven, and Rainbow Rowell.
Kit:
I don't know why I decide not to sit with Annie and Violet at lunch. I can feel their eyes on me as I pass right by our usual table, which is in the perfect spot because you can see
everyone
from there. But the truth is I no longer
want
to be in the center of things. Suddenly it feels like no one here gets what I'm going through. How could they? I don't even understand it.
David:
In the 622 days I've attended Mapleview High, Kit Lowell is the first person to sit at my lunch table. I
always
sit alone, and when I say
always,
I don't mean that in the exaggerative vernacular favored by my classmates. I mean I've never once sat with someone until now. "So your dad is dead," I say to Kit, because this is a fact I've recently learned about her.
When an unlikely friendship is sparked between relatively popular Kit Lowell and socially isolated David Drucker, everyone is surprised, most of all Kit and David. Kit appreciates David's blunt honesty—in fact, she finds it bizarrely refreshing at a time when everyone else is tiptoeing around her. David welcomes Kit's attention and her inquisitive nature. When she asks for his help figuring out the how and why of her dad's tragic car accident, David is all in. But neither of them can predict what they'll find. Will it be a welcome relief for Kit? Or a devastating shock? And can their friendship survive the truth?
PRE-ORDER ON
I received an e-ARC from Netgalley in exchange for an honest review.
"Tell me three things" was one of the sweetest, funniest contemporaries I read on 2016. I was so, so happy to get the chance read yet another amazing book by Julie Buxbaum!
Kit has just lost her father. Wanting to escape her friends, who insist on making her choose between a too tight jeans and a new boyfriend, she goes and sit right next to David. From there a sweet story begins, moving between Kit's and David's POV.
On the outside, you may see this book as a known cliche where in an american high school you have the popular ones, the jocks, the mean girls and the outcasts. There is bullying and also the teenaged-hormone-filled mind doesn't quite have a grip on things.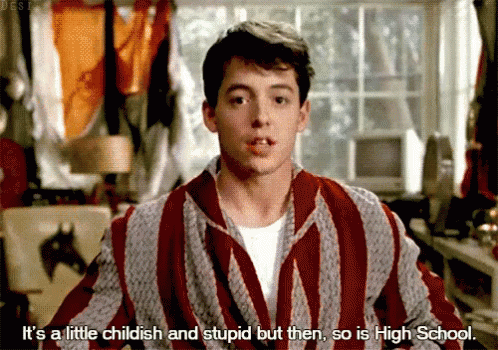 Yet David is smart, has an amazing knowldge in math, physics and music and falls for Kit, even when she doesn't know it or when misunderstandings begin to gather. I liked how Kit's relationship with her mother moved. Also Kit is half Indian so you have a good part of diversity representation gathered here.
I can't say much, because it'll spoil you but you really need to give this sweet gem a chance. I truly would love to read more of Kit and David one day, if it'll ever happen!
About the author:
One of my favorite things about being a novelist is the opportunity to talk to reading groups. If you are part of a reading group and would like to set up a conference call, or maybe even a meeting in person, please check out the reading group form and the reading group guide on my website.