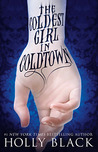 The Coldest Girl in Coldtown
by
Holly Black
My rating:
4 of 5 stars
Summary from GoodReads
Tana lives in a world where walled cities called Coldtowns exist. In them, quarantined monsters and humans mingle in a decadently bloody mix of predator and prey. The only problem is, once you pass through Coldtown's gates, you can never leave.

One morning, after a perfectly ordinary party, Tana wakes up surrounded by corpses. The only other survivors of this massacre are her exasperatingly endearing ex-boyfriend, infected and on the edge, and a mysterious boy burdened with a terrible secret. Shaken and determined, Tana enters a race against the clock to save the three of them the only way she knows how: by going straight to the wicked, opulent heart of Coldtown itself.

The Coldest Girl in Coldtown is a wholly original story of rage and revenge, of guilt and horror, and of love and loathing from bestselling and acclaimed author Holly Black.
BUY ON AMAZON
REVIEW
This was my first read from Holly Black's books. While I long to read "White Cat" series this was the one that fell on my hands.
And I wasn't disappointed. The story takes place in America which is run by vampires. Rules have been established for the good of the people and Tana was unlucky enough to wake up after a party with corpses around her. Yup, that's how the book begins and it keeps you gripped especially after Tana finds her ex-boyfriend tied on abed and a vampire also tied next to him.
From there an adventure begins with the three of them trying to reach the Coldtown a ghetto designed for the vampires. In a spiral of emotions, mysteries and betrayal Tana will realise that she carries darkness and Gavriel is not who he seems.
The book was a nice action packed story but with some issues I would really like to mention. Tana is a strong willed person but she easily is swept away by the desicions of others. Many times she questions herself, especially after we get to see the past she has.
Aiden the ex-boyfriend, is an ass. Scuse my language but it's true. Many times he hinders Tana's and Gavriel's attempts for an easy travel and he makes everything difficult.
Add on them some extra characters who do little to the plot and I believe that this book was more a self expolation to the darkenss of human nature rather than a gothic, horror read.
But it was a nice story and it left me wondering what actually happened in the end. I'll never know and I hope Holly will write a sequel. :)
About the author: