We are very excited to announce a brand new stand-alone
from NYT Bestselling author Karina Halle!
She thinks he's an arrogant playboy.
He thinks she's an uptight prude.
But he's about to make her an offer she can't refuse.
Nicola Price used to have it all – a great career, the perfect boyfriend, an excessive shoe collection and an apartment in one of San Francisco's best neighborhoods. But when she gets knocked up and her asshat boyfriend leaves her high and dry, Nicola's perfectly crafted world comes tumbling down. And stays that way.
Now, Nicola is the proud single mom to a five-year old daughter and living a giant lie. She can barely afford their ghetto apartment and all the men she dates run when they hear she comes with a child. She's struggling and scared – and nowhere near where she thought she'd be at age thirty-one.
Her saving grace comes in the form of a tall, handsome and wealthy Scotsman Bram McGregor, the older brother of her friend Linden. Bram understands a thing or two about pride, so when tragic circumstances place Nicola at rock bottom, he offers them a place to live in the apartment complex he owns. It's pretty much the perfect deal, so as long as she doesn't mind living beside Bram, a man that, despite his generosity, seems to antagonize her at every turn.
But nothing in life is free and as Nicola gets her feet back on the ground, she discovers that the enigmatic playboy may end up costing her more than she thought.
She might just lose her heart.
Those McGregor brothers are nothing but trouble...
ADD TO GOODREADS
THE PACT ON AMAZON! (click the cover)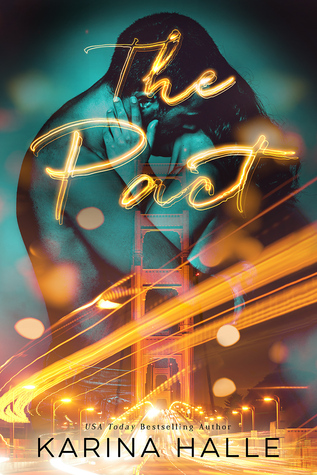 It all started with a pinky swear…

Linden McGregor is tall, rugged, and gunslinger handsome; a helicopter pilot with a Scottish brogue and charm to spare. He's also one of Stephanie Robson's best friends and has fit into that box for as long as she's known him.

But some relationships can't be boxed, can't be classified, can't be tamed.

Back in their mid-twenties and tired of the competitive hit-or-miss dating scene of San Francisco, Steph and Linden made a pact to marry each other if neither one of them are in a serious relationship by the time they hit thirty.

It sounds like fun and games but as the years to thirty tick past and lovers come and go out of their lives, the pact becomes larger than life.
Sex is inevitable. Friendships are tested. Hearts are on the line.

The pact is about to change everything.
About the author:
With her USA Today Bestselling The Artists Trilogy published by Grand Central Publishing, numerous foreign publication deals, and self-publishing success with her Experiment in Terror series, Vancouver-born Karina Halle is a true example of the term "Hybrid Author." Though her books showcase her love of all things dark, sexy and edgy, she's a closet romantic at heart and strives to give her characters a HEA...whenever possible.Karina holds a screenwriting degree from Vancouver Film School and a Bachelor of Journalism from TRU. Her travel writing, music reviews/interviews and photography have appeared in publications such as Consequence of Sound, Mxdwn and GoNomad Travel Guides. She currently lives on an island on the coast of British Columbia where she's preparing for the zombie apocalypse with her husband and rescue pup.
LINKS:
FACEBOOK
TWITTER
GOODREADS
AMAZON AUTHOR PAGE