Welcome to Day 6! From the world of "Throne of Glass" let's go into the deepest jungle! Today, I feature

Sara B. Larson

And her books of "Defy" and "Ignite", two novels with herat pounding romance and politics with more secrets on their own!
Defy
by
Sara B. Larson
My rating:
5 of 5 stars
Summary from GoodReads
Alexa Hollen is a fighter. Forced to disguise herself as a boy and serve in the king's army, Alex uses her quick wit and fierce sword-fighting skills to earn a spot on the elite prince's guard. But when a powerful sorcerer sneaks into the palace in the dead of night, even Alex, who is virtually unbeatable, can't prevent him from abducting her, her fellow guard and friend Rylan, and Prince Damian, taking them through the treacherous wilds of the jungle and deep into enemy territory.

The longer Alex is held captive with both Rylan and the prince, the more she realizes that she is not the only one who has been keeping dangerous secrets. And suddenly, after her own secret is revealed, Alex finds herself confronted with two men vying for her heart: the safe and steady Rylan, who has always cared for her, and the dark, intriguing Damian. With hidden foes lurking around every corner, is Alex strong enough to save herself and the kingdom she's sworn to protect?
REVIEW
Do you want adventure into the jungle? Betrayals, romance fighting? Yes, that's the book for you!
On "Defy" Alexa is posing as a boy together with her brother in order to survive a cruel fate. Under the rule of a harsh king and a prince who hides many secrets Alexa will soon realize that nothing she'd been taught is what it seems.
Damian and Rylan are the love intersts but it becomes clear that there is no love triangle. The desriptions of the wolrd Alexa lives are colorful and vivid with colors and sounds, as if you can feel the jungle coming to life.
Alexa has to battle her emotions and her duty but her devotion to her poeple's pain is remarkable. The book is filled with action to the point you can't comprehend when did the book end.
Recommended to the lovers of high fantasy and adventure!
Don't miss the second book of the series!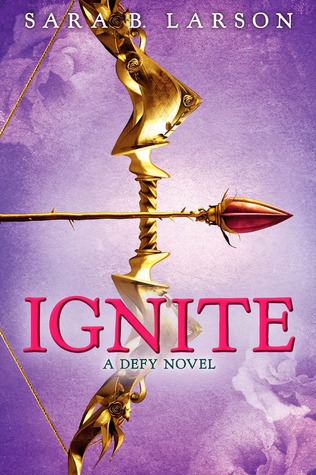 Murder, abductions, and forbidden romance abound in this thrilling sequel to Sara B. Larson's acclaimed YA debut, DEFY.

Alexa remains by the newly crowned King Damian's side as his guard, ever committed to helping him rebuild Antion and reclaim the hope of Antion's people, despite continuing to harbor a secret love for him. However, when another threat to Damian and his kingdom emerges, and blame is cast on their newly forged allies from Blevon, Alexa knows things are not what they seem. With the fate of her nation hanging in the balance once again, will Alexa be able to protect her king and uncover the true enemy -- before it's too late?
About the author:
GIVEAWAY
INT as long as you can recieve an ebook

Those who dont fill the whole refflecopter giveaway WILL be disquilified
a Rafflecopter giveaway