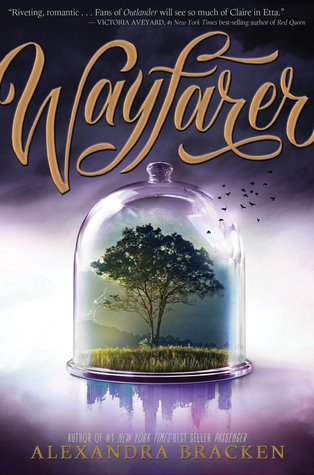 Wayfarer by Alexandra Bracken
My rating: 5 of 5 stars
Summary from GoodReads
All Etta Spencer wanted was to make her violin debut when she was thrust into a treacherous world where the struggle for power could alter history. After losing the one thing that would have allowed her to protect the Timeline, and the one person worth fighting for, Etta awakens alone in an unknown place and time, exposed to the threat of the two groups who would rather see her dead than succeed. When help arrives, it comes from the last person Etta ever expected—Julian Ironwood, the Grand Master's heir who has long been presumed dead, and whose dangerous alliance with a man from Etta's past could put them both at risk.
Meanwhile, Nicholas and Sophia are racing through time in order to locate Etta and the missing astrolabe with Ironwood travelers hot on their trail. They cross paths with a mercenary-for-hire, a cheeky girl named Li Min who quickly develops a flirtation with Sophia. But as the three of them attempt to evade their pursuers, Nicholas soon realizes that one of his companions may have ulterior motives.
As Etta and Nicholas fight to make their way back to one another, from Imperial Russia to the Vatican catacombs, time is rapidly shifting and changing into something unrecognizable… and might just run out on both of them.
BUY ON
Wayfarer is one of the most beautiful, emotional reads for January, at least for me. I was very anxious after the ending of Passenger to learn what had happened to both Etta and Nick as also find out how they would stop Ironwood from messing up the entire entity of time and space.
There are lots of travels back and forth through time and despite having lots of action scenes, emotional meetings and a new threat Alexandra Bracken delivers a full fledged world building which feels unique in its own entity. Not to mention the new characters who depsite even having small or big influence into the story, they are also fully written with their own powers and flaws.
The book is really big; actually it felt like reading a second and a third book together, since Etta and Nic stay away from each other for some time. But their time away strengthens their bond and their love for each other. I felt too much espacially for Nick who had to deal with many moral issues as also his pain from the past.
The ending was very satisfying and equally sweet. It's a hopeful one, which I hope it will be built upon the trust and the love the main characters have for each other. Alexandra Bracken's recent book is stunning and there are no more words to describe how much this book deserves to be made into a movie (too!).
And don't miss the first book of this amazing duology!
About the author:
Alexandra Bracken was born and raised in Arizona. The daughter of a Star Wars collector, she grew up going to an endless string of Star Wars conventions and toy fairs, which helped spark her imagination and a deep love of reading. After graduating high school, she attended The College of William & Mary in Virginia, where she double majored in English and History. She sold her first book, Brightly Woven, as a senior in college, and later moved to New York City to work in children's book publishing, first as an editorial assistant, then in marketing. After six years, she took the plunge and decided to write full time. She now lives in Arizona with her tiny pup, Tennyson, in a house that's constantly overflowing with books.
Alex is a #1 New York Times bestselling and USA TODAY bestselling author. Her work is available across the world in over 15 languages.