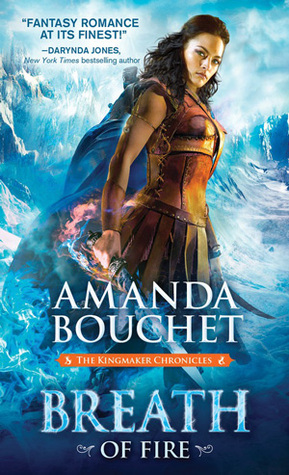 Breath of Fire
by
Amanda Bouchet
My rating:
5 of 5 stars
Summary from GoodReads
SHE'S DESTINED TO DESTROY THE WORLD...
"Cat" Catalia Fisa has been running from her destiny since she could crawl. But now, her newfound loved ones are caught between the shadow of Cat's tortured past and the threat of her world-shattering future. So what's a girl to do when she knows it's her fate to be the harbinger of doom? Everything in her power.
BUT NOT IF SHE CAN HELP IT
Griffin knows Cat is destined to change the world-for the better. As the realms are descending into all-out war, Cat and Griffin must embrace their fate together. Gods willing, they will emerge side-by-side in the heart of their future kingdom...or not at all.
BUY ON
This powerful sequel in the Kingmaker Chronicles was a gem of its own! Cat, Griffin and their companions must travel to cold plains, seek mythical creatures of the Greek legends, as also envade their enemies.
I loved their banter, the steamy scenes and the character grownth, especially Cat. In the first book she is a woman who tries to escape her problems not matter the cost, but now she fights for everything and everyone with all she has to give.
Even her life.
The Ipotane were a nice touch. Though I'm more fond of Centaurs, I understand that Amanda Bouchet wanted to introduce to her readers even more unknown creatures of the Greek mythology. I'm still hoping to see a Pegasus in the next book!
If a NA filled with magic and mythology along with quite the steamy scenes is your best choice then I truly recommend this book!
About the author: