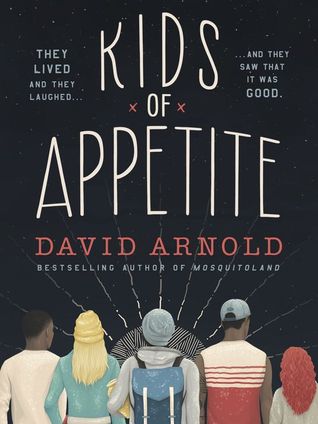 Kids of Appetite by David Arnold
My rating: 5 of 5 stars
Summary from GoodReads
The bestselling author of Mosquitoland brings us another batch of unforgettable characters in this tragicomedy about first love and devastating loss. Victor Benucci and Madeline Falco have a story to tell.
It begins with the death of Vic's father.
It ends with the murder of Mad's uncle.
The Hackensack Police Department would very much like to hear it.
But in order to tell their story, Vic and Mad must focus on all the chapters in between.
This is a story about:
1. A coded mission to scatter ashes across New Jersey.
2. The momentous nature of the Palisades in winter.
3. One dormant submarine.
4. Two songs about flowers.
5. Being cool in the traditional sense.
6. Sunsets & ice cream & orchards & graveyards.
7. Simultaneous extreme opposites.
8. A narrow escape from a war-torn country.
9. A story collector.
10. How to listen to someone who does not talk.
11. Falling in love with a painting.
12. Falling in love with a song.
13. Falling in love.
BUY THE BOOK ON
While I have known about "Mosquitoland" the first book by this author, I actually began with "Kids of Appetite". And I loved it.
I loved the diverse characters and the issues of immigration, war, alchoolism and family abuse which were touched in an indirect way through the characters' back stories. Vic and the gang, each one of them was amazing and funny and so, so scarred. Coco knows how to steal the spotlight with her bad mouth and her innocence in the dark world she lives in; Zuz and his brother and Mad.
I liked how the story went back and forth as Vic's story and the rest of the gang comes closer and closer. And the ending was bittersweet but so so amazing!
I really liked this book and I'm looking forward for the next release of this author! ;)
About the author:
David Arnold lives in Lexington, Kentucky, with his (lovely) wife and (boisterous) son. He is the New York Times bestselling author of Kids of Appetite and Mosquitoland.
Learn more at davidarnoldbooks.com and follow him on Twitter @roofbeam and Instagram @iamdavidarnold.