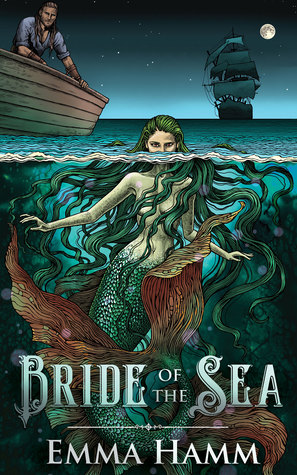 Bride of the Sea by Emma Hamm
My rating: 5 of 5 stars
Summary from Goodreads
The Little Mermaid meets Irish Mythology in this retelling of the beloved classic… The first Companion Novel in the Otherworld Series
Once upon a time…
Saoirse dreams of land. Her father has other plans, and intends to marry her off as soon as possible. When a ship sinks near her home, she carries the only surviving sailor to a faerie blessed isle and plans her escape. Who better to help her than a man with few scruples and little cares in the world?
Manus dreams of the sea. He spent every coin in his pockets to get back on a ship but never expected the vessel to sink. When a merrow saves him, he realizes the chance meeting is an opportunity. She could make him rich and become his good luck charm, so the legends say. Now, he just needs to get off the isle she's trapped him on.
They intend to use each other, but find their souls drawn together bit by bit. Can either leave the isle and the sea without losing their hearts in the bargain?
BUY ON
I knew that the tale of Manus was going to be told at some point! Following the first two books of the series (which are a Beauty and the Beast retelling), Bride of the Sea takes place few years before the first two books and tells the story of Saoirse, a merrow, and Manus.
Knowing that this was a Little Mermaid retelling, I feared that Emma Hamm was going to tear my heart out, since many retellings of the tale have really cruel endings, but in this book, I loved the descriptions, how the romance grew and how from Saoirse's eyes you can see the life and the world Emma Hamm has created for her characters!
At the same time, the designs of the characters in the book matched perfectly with the cover art! It's one of the few times when I am so excited for a cover that depicts the characters shown and it's easy to imagine them (also check out Emma's Instagram! She has commissioned art too!)
There is also a new secondary character whose story I am very curious to find out and mostly to discover more amazing stories from Emma! She is very talented and her books are hidden gems!
Emotional, lovely and heartfelt Bride of the Sea will sweep you away!
Don't miss the other books of the series! (can be read as standalone too)
About the author:
I am from a very small rural town in Maine. I grew up amid blueberry fields, a farm full of animals, and surrounded by family. It was one of the best ways for a child to grow up. Horses blew puffs of sweet smelling breath in my hair, goats teased me until I giggled, and someone who loved me was always there to pick me up when I fell. I am truly blessed to have grown up in such a fashion.
The love of creative story telling started when I was very young. I used to "act out" the way a story should have gone and argued with my mother constantly about the endings of movies. I wrote a little bit, and eventually found myself in the online writing community. My love of characters blossomed and grew thanks to the ever vigilant parents who convinced me that imagination was one of the greatest gifts of the human mind. I wrote, I created, I read as many books as I could next to the fireplace.
I am inspired by the works of authors like Clive Barker, Mark Danielewski, Patricia Briggs, Clare B. Dunkle, and so many more.
Thank you all for your support, love, and kindness.
https://www.emmahamm.com/