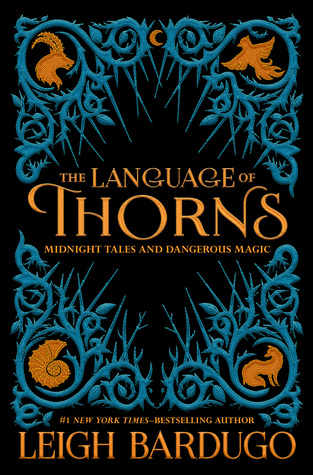 The Language of Thorns: Midnight Tales and Dangerous Magic by Leigh Bardugo
My rating: 5 of 5 stars
Summary from GoodReads
Love speaks in flowers. Truth requires thorns.
Travel to a world of dark bargains struck by moonlight, of haunted towns and hungry woods, of talking beasts and gingerbread golems, where a young mermaid's voice can summon deadly storms and where a river might do a lovestruck boy's bidding but only for a terrible price.
Inspired by myth, fairy tale, and folklore, #1 New York Times–bestselling author Leigh Bardugo has crafted a deliciously atmospheric collection of short stories filled with betrayals, revenge, sacrifice, and love.
Perfect for new readers and dedicated fans, these tales will transport you to lands both familiar and strange—to a fully realized world of dangerous magic that millions have visited through the novels of the Grishaverse.
This collection of six stories includes three brand-new tales, all of them lavishly illustrated with art that changes with each turn of the page, culminating in six stunning full-spread illustrations as rich in detail as the stories themselves.
BUY ON
A gorgeous tale of folklore stories from the world of the Grisha! Enter an enchanting tale of brothers and sisters, monsters and beauty, enchanted toys, witches, mermaids and singers! I truly loved reading each tale with the gorgeous illustrations around the pages, which grew more and more each time I read.
I especially loved "Ayama and the Thron Wood", which had an element of Beauty and the Beast mixed with the Greek myth of the Minotaur.
On "When water sang fire" there was a surprising cameo which made me scream on Twitter. I seriously didn't expect "The Witch of Duva" to have THAT ending!
The other stories were really well-written too and if there will be a chance for something similar to happen into other series (YES I'M POINTING AT YOU ACOTAR!), then I'm all in!
About the author
:
Leigh Bardugo is the #1
New York Times
bestselling and
USA Today
bestselling author of the Six of Crows Duology and the Shadow and Bone Trilogy, as well as the upcoming
Wonder Woman: Warbringer
(Aug 2017) and
The Language of Thorns
(Sept 2017).
She was born in Jerusalem, grew up in Los Angeles, and graduated from Yale University. These days, she lives and writes in Hollywood where she can occasionally be heard singing with her band.
She would be delighted if you followed her on
Twitter
, elated if you visited her
web site
, and fairly giddy if you liked her selfies on
Instagram
.