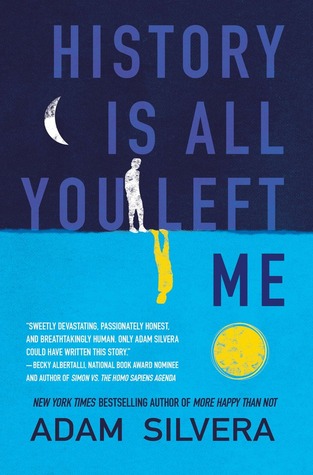 History Is All You Left Me by Adam Silvera
My rating: 5 of 5 stars
Summary from GoodReads
When Griffin's first love and ex-boyfriend, Theo, dies in a drowning accident, his universe implodes. Even though Theo had moved to California for college and started seeing Jackson, Griffin never doubted Theo would come back to him when the time was right. But now, the future he's been imagining for himself has gone far off course.
To make things worse, the only person who truly understands his heartache is Jackson. But no matter how much they open up to each other, Griffin's downward spiral continues. He's losing himself in his obsessive compulsions and destructive choices, and the secrets he's been keeping are tearing him apart.
If Griffin is ever to rebuild his future, he must first confront his history, every last heartbreaking piece in the puzzle of his life.
BUY ON
I knew that reading this book would bring me to tears. Bu I never expected to laugh. "History is All you've left me" is a story of first love and relationship; of grief and the long way you must take after losing your loved one.
For Griffin, who also has OCD, this is a horrible play from the universe. Since losing Theo he can't find a way to reason with everything, until Jackson, Theo's boyfriend. Together they'll try to find reason behind their grief and try to move on with tiny steps every day.
The funny part with this book was the alternative timelines: we move back and forth, from the moment Griffin and Theo become a couple to the events after. One chapter makes you laugh hard, like the scene with the boys and Griffin's father in the store, and the next makes you cry like a baby. Another part I liked in this book was how supportive both families were to their sons, who despite having already aknowledged their sexuality, their parents wants them to be happy; a contrast to Adam Silvera's first book.
There's nothing cheerful in the ending, only a bittersweet feeling that everything will be well and Griffin will slowly move on. But still, this book was one of the most emotional I've read so far. I don't know if I'll survive Adam's next book, "They both Die in the End", though.
About the author:
Adam Silvera was born and raised in the Bronx. He has worked in the publishing industry as a children's bookseller, marketing assistant at a literary development company, and book reviewer of children's and young adult novels. His debut novel,
More Happy Than Not
, received multiple starred reviews and is a
New York Times
bestseller, and Adam was selected as a Publishers Weekly Flying Start. He writes full-time in New York City and is tall for no reason.
Represented by Brooks Sherman of the Bent Agency.