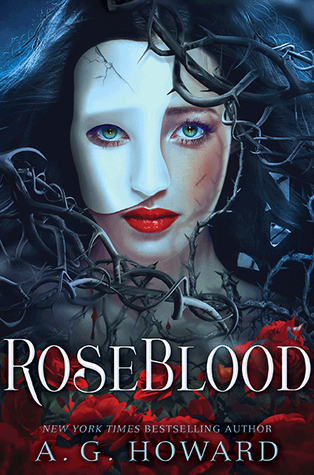 RoseBlood by A.G. Howard
My rating: 5 of 5 stars
Summary from GoodReads
In this modern day spin on Leroux's gothic tale of unrequited love turned to madness, seventeen-year-old Rune Germain has a mysterious affliction linked to her operatic talent, and a horrifying mistake she's trying to hide. Hoping creative direction will help her, Rune's mother sends her to a French arts conservatory for her senior year, located in an opera house rumored to have ties to The Phantom of the Opera.
At RoseBlood, Rune secretly befriends the masked Thorn—an elusive violinist who not only guides her musical transformation through dreams that seem more real than reality itself, but somehow knows who she is behind her own masks. As the two discover an otherworldly connection and a soul-deep romance blossoms, Thorn's dark agenda comes to light and he's forced to make a deadly choice: lead Rune to her destruction, or face the wrath of the phantom who has haunted the opera house for a century, and is the only father he's ever known.
BUY ON
This book has been one of the most anticipated in my TBR list for winter 2017. Not only it's written by one of my favorite authors, but also it's a retelling/"sequel" for one of the top legends (and pop culture) figure, The Phantom of the Opera!
*cue in the Overture*
*Or not*
Our story is told by a double POV: our main protagonist Rune from the first person POV and the enigmatic Thorn from the third person POV. It doesn't confuse and it's easy to read. Not to mention that getting into knowing both characters, truly resolved some issues I had with the plot at the beginning of the book.
Rune has a marvellous gift. She has the voice of an angel and when she is taken into a private music school at the coutryside of Paris, she is thrust into the mystery and the story of the Phantom. She makes friends and enemies, she explores and learns not only about her gift but also her heritage.
I admit; some parts of the book made me think that the story would evolve differently but I was amazed by the plot twists and the final outcome. There were also moments in the book, where Rune was a little annoying, since she could have asked for help in many cases. But knowing how the Phantom works I could relate with her fear.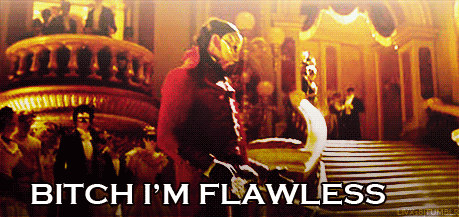 What won me was the descriptions and the delicate micro-world building A.G. Howard created for her story. We do see some of Paris, but the details, the colors and the beauty are focused on describing the academy Roseblood and the secrets which lie hidden behind it.
The revealing about the mystery and the backstory was heart-breaking and while the swoon scenes weren't much, the plot can win you with its delicate beauty and unforgettable characters.
About the author:
A.G. Howard is the International and NYT bestselling author of the Splintered Series, with a slew of other classical spinoffs and original stories in the works that she hopes will one day find a place on the shelves.
She was inspired to write her tribute to Carroll's Wonderland while working at a school library. Her pastimes are reading, rollerblading, gardening, and family vacations which often include impromptu side trips to 18th century graveyards or condemned schoolhouses to appease her overactive muse.
SPLINTERED, UNHINGED, ENSNARED, and UNTAMED, the first four books in her urbanized /gothic Alice in Wonderland series, are now available from Amulet Books. Also soon to be available from Amulet is her Phantom of the Opera spinoff, ROSEBLOOD -- slated to launch January 2017.
THE ARCHITECT OF SONG, the first book in her New Adult historical literary romance saga, will be available in August 2016.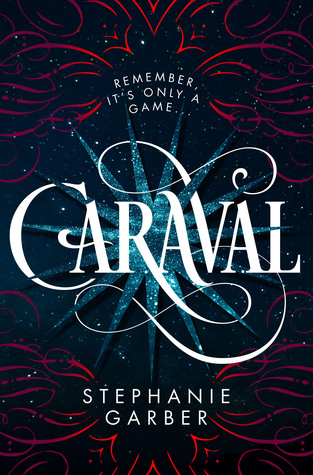 Caraval by Stephanie Garber
My rating: 5 of 5 stars
Summary from GoodReads
Whatever you've heard about Caraval, it doesn't compare to the reality. It's more than just a game or a performance. It's the closest you'll ever find to magic in this world . . .

Welcome, welcome to Caraval―Stephanie Garber's sweeping tale of two sisters who escape their ruthless father when they enter the dangerous intrigue of a legendary game.
Scarlett has never left the tiny island where she and her beloved sister, Tella, live with their powerful, and cruel, father. Now Scarlett's father has arranged a marriage for her, and Scarlett thinks her dreams of seeing Caraval, the far-away, once-a-year performance where the audience participates in the show, are over.
But this year, Scarlett's long-dreamt of invitation finally arrives. With the help of a mysterious sailor, Tella whisks Scarlett away to the show. Only, as soon as they arrive, Tella is kidnapped by Caraval's mastermind organizer, Legend. It turns out that this season's Caraval revolves around Tella, and whoever finds her first is the winner.
Scarlett has been told that everything that happens during Caraval is only an elaborate performance. But she nevertheless becomes enmeshed in a game of love, heartbreak, and magic with the other players in the game. And whether Caraval is real or not, she must find Tella before the five nights of the game are over, a dangerous domino effect of consequences is set off, and her sister disappears forever.
BUY ON
If you loved the "Night Circus" by Erin Morgenstern, then you'll also enjoy "Caraval". With a deadly twist of course.
Scarlett and her sister Etta grew up listening to the stories of Caraval, the magic circus where all your dreams can come true and also about its Master, Legend. And despite her dreams Scarlett has to fulfill her duties as the eldest marrying her father's choice of groom.
When the magical invitations to the Caraval arrive, both Scarlett and Etta with the help of Julian, a sailor, will embark into an adventure which may seem like a game but there is also a deadly secret attatched to it.
Caraval was a great read. I enjoyed the descriptions, the secrets, even the romance, which was the kind of "enemies-to-lovers". Both Scarlett and Etta live in an abusive family with a father who is not only the governor but also a kind of mafia boss and a man who also uses his duaghters' love to make them both afraid.
The story is full of mystery with an enigmatic ending, which will also make you carve for more and I will be highly anticipating the next book!
About the author:
Hi! Thanks so much for stopping by this page. I'm only on this site occasionally, so if you'd like to send me a message, please use the contact form on my website:
http://stephaniegarberauthor.com
.
I can also be found on Twitter, and I love connecting with readers. If you're looking for more information about my books, I try to update my website on a regular basis.