Welcome to my celebration post for the 10th anniversary of "Poison Study" by Maria V. Snyder! First of all here's the rules of the 4 weeks of celebration and prizes as Posted on Fiktshun!
SIGN UP in the Linky below and let us know you're participating! (During the read-along you will be able to add your blog posts to a Rafflecopter for a chance to win one of the awesome giveaway prizes!)
POST once a week during the month of October (preferably on Friday or Saturday). The post can be about anything you've read that week.
JOIN THE CONVERSATION on Twitter. There will be no set times, just tweet when the mood strikes, using the hashtag #PoisonStudyReadAlong
The Program of the Read-along
October 4th-10th | Chapters 1-8
October 11th-17th | Chapters 9-17
October 18th-24th |Chapters 18-25
October 25th-31st |Chapters 26-32 and closing post
You can participate and follow along on any of their blogs!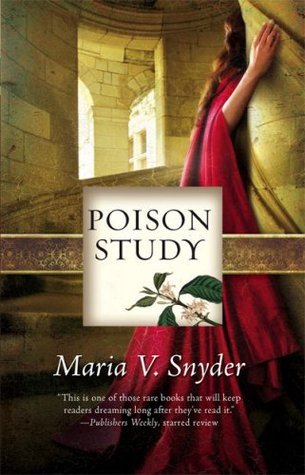 Poison Study by Maria V. Snyder
My rating: 5 of 5 stars
Summary from GoodReads
Choose: A quick death…Or slow poison...

About to be executed for murder, Yelena is offered an extraordinary reprieve. She'll eat the best meals, have rooms in the palace—and risk assassination by anyone trying to kill the Commander of Ixia.

And so Yelena chooses to become a food taster. But the chief of security, leaving nothing to chance, deliberately feeds her Butterfly's Dust—and only by appearing for her daily antidote will she delay an agonizing death from the poison.

As Yelena tries to escape her new dilemma, disasters keep mounting. Rebels plot to seize Ixia and Yelena develops magical powers she can't control. Her life is threatened again and choices must be made. But this time the outcomes aren't so clear...
BUY ON AMAZON, CLICK THE COVERS FOR MORE DETAILS
REVIEW of chapters 1-8
I had the chance to 'read' the whole series as audiobooks. No page was turned in this series and I must admit that the narrator did a great job with the voices of Yelena, Valek and their friends and foes.
A Yelena begins her journey through the Commander's castle, she evolves as a woman, character and heroine. She is flawed, makes mistakes but she tries to amend for them.In the first chapters through her eyes we are introduced into the Commander's castle and organisation while the mystery around Brazel and the magicians.
She is trained from Valek on poisons and the mystery of the messages appears as she moves though the castle. There are some thoughts fro Yelena about Valek but mostly we see the organisation of Commander's castle and the politics.
The world building is epic and Maria's descriptions through Yelena's eyes for Valek are truly AMAZING!
Yelena is a true example of a heroine who defies the odds and can become stronger. She has power which doesn't corrupt her and she tries to understand it and use it later. As for the other characters? They are introduced in "Poison Study" and some of the Especially Valek will remain in the top scale of the amazing male characters!
My feelings for the book can also be summarized like this:
About the author:
GIVEAWAY
GRAND PRIZE: SIGNED hardcover first editions of POISON STUDY and MAGIC STUDY
FIRST PLACE: a SIGNED hardcover first edition of POISON STUDY
FIVE (5) WINNERS: a SIGNED cover flat of the original cover of POISON STUDY
THREE (3) WINNERS: a SIGNED original bookmark for POISON STUDY
a Rafflecopter giveaway