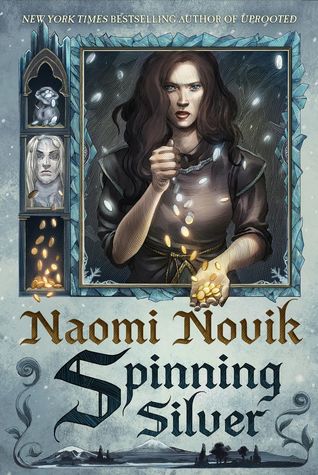 Spinning Silver by Naomi Novik
My rating: 5 of 5 stars
Summary from GoodReads
Miryem is the daughter and granddaughter of moneylenders... but her father isn't a very good one. Free to lend and reluctant to collect, he has loaned out most of his wife's dowry and left the family on the edge of poverty--until Miryem steps in. Hardening her heart against her fellow villagers' pleas, she sets out to collect what is owed--and finds herself more than up to the task. When her grandfather loans her a pouch of silver pennies, she brings it back full of gold.
But having the reputation of being able to change silver to gold can be more trouble than it's worth--especially when her fate becomes tangled with the cold creatures that haunt the wood, and whose king has learned of her reputation and wants to exploit it for reasons Miryem cannot understand.
BUY ON
REVIEW
The beauty of Naomi Novik's writing can be found in her characters. I had loved Uprooted and it is no wonder that I loved Spinning Silver too!
Our story takes place in a fantasy Russian inspired kingdom which borders with the magic lands of the Staryk; they are not exactly a different dimension but they are connected in a way to the seasons.
Myriem is the daughter of a Jew moneylender who is, to be quite frank, bad at his job. So she hardens her heart and takes her father's job. But the story doesn't stop here; as we move into the plot, more characters appear, who despite making everything complex, they connect with each other in a surprising way; Wanda, Stepon, Irina, Mirthanius and Myriem all together forge their own paths and prove their worth in a world that is too harsh to the different and on women.
Another surprising part was the almost lack of romance; it's not there but suddenly it appears close to the ending of the book, created by the circumstances the bravery to face your own fears. This is by far one of the best books of 2018; with elements of Russian mythology, the story of the Snow Queen and Rumplestiltskin, Spinning Silver is an amazing book to have!
About the author: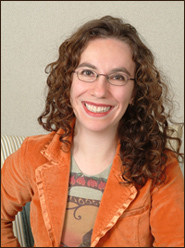 An avid reader of fantasy literature since age six, when she first made her way through The Lord of the Rings, Naomi Novik is also a history buff with a particular interest in the Napoleonic era and a fondness for the work of Patrick O'Brian and Jane Austen. She studied English literature at Brown University, and did graduate work in computer science at Columbia University before leaving to participate in the design and development of the computer game Neverwinter Nights: Shadow of Undrentide. Over the course of a brief winter sojourn spent working on the game in Edmonton, Canada (accompanied by a truly alarming coat that now lives brooding in the depths of her closet), she realized she preferred writing to programming, and on returning to New York, decided to try her hand at novels.
Naomi lives in New York City with her husband and six computers. Her website is at naominovik.com