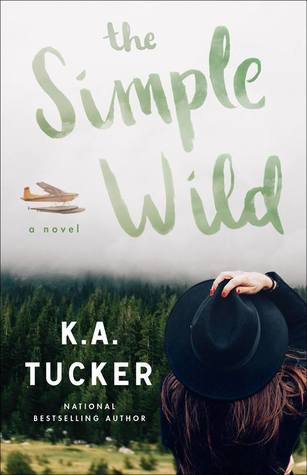 The Simple Wild by K.A. Tucker
My rating: 5 of 5 stars
Summary from GoodReads
Calla Fletcher wasn't even two when her mother took her and fled the Alaskan wild, unable to handle the isolation of the extreme, rural lifestyle, leaving behind Calla's father, Wren Fletcher, in the process. Calla never looked back, and at twenty-six, a busy life in Toronto is all she knows. But when Calla learns that Wren's days may be numbered, she knows that it's time to make the long trip back to the remote frontier town where she was born.
She braves the roaming wildlife, the odd daylight hours, the exorbitant prices, and even the occasional—dear God—outhouse, all for the chance to connect with her father: a man who, despite his many faults, she can't help but care for. While she struggles to adjust to this rugged environment, Jonah—the unkempt, obnoxious, and proud Alaskan pilot who helps keep her father's charter plane company operational—can't imagine calling anywhere else home. And he's clearly waiting with one hand on the throttle to fly this city girl back to where she belongs, convinced that she's too pampered to handle the wild.
Jonah is probably right, but Calla is determined to prove him wrong. Soon, she finds herself forming an unexpected bond with the burly pilot. As his undercurrent of disapproval dwindles, it's replaced by friendship—or perhaps something deeper? But Calla is not in Alaska to stay and Jonah will never leave. It would be foolish of her to kindle a romance, to take the same path her parents tried—and failed at—years ago. It's a simple truth that turns out to be not so simple after all.
PRE-ORDER ON
I received an e-ARC from NetGalley in exchange for an honest review.
The family drama, emotions long hidden and a life in Alaska are the new themes in this amazing upcoming novel by my favorite K.A. Tucker!
Calla Fletcher has just lost her job, broke up with her boyfriend and found out that her father is sick with the c-word. Taking a brave step, she travels to Alaska where she will try to connect with her father, learn about living in the frontier and also get to know Jonah the pilot (whom I'd really want to have if he was an actual person!)
I adored the story, the setting and I'm sure that Tucker did a spectacular job in her research; knowing myself I wouldn't be able to live there. But the story doesn't stop there, it also covers the difficulties of life, the indigenous people living in Alaska and it's filled with wild nature and amazing scenery. Through Calla's eyes, we see Alaska as if it was a documentary and the emotions inflicted to her through the story are very realistic.
On the other hand, I began reading The Simple Wild after having finished "The girl and her Ren" by Pepper Winters. That book gutted me in a way of ugly crying over the phone (lots of tissues I tell you), so the ending of the "Simple Wild" found me also in the Sobbing Land. But, Calla and Jonah pulled through and the book satisfies you in the best bittersweet way.
Family drama, romance, and an adventure, the Simple Wild is a must read!
About the author:
K.A. Tucker writes captivating stories with an edge.
She is the USA Today bestselling author of 17 books, including the Causal Enchantment, Ten Tiny Breaths and Burying Water series, He Will Be My Ruin, Until It Fades, Keep Her Safe, and her upcoming contemporary fiction, The Simple Wild. Her books have been featured in national publications including USA Today, Globe & Mail, Suspense Magazine, and Publisher's Weekly.
K.A. Tucker currently resides in a quaint town outside of Toronto with her husband and two beautiful girls.