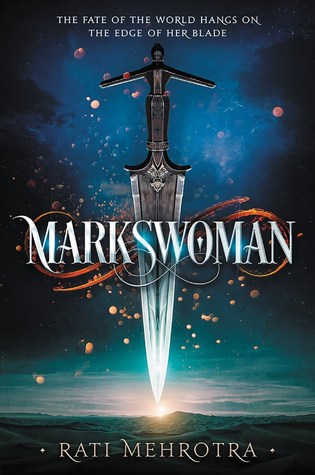 Markswoman by Rati Mehrotra
My rating: 4 of 5 stars
Summary from GoodReads
Kyra is the youngest Markswoman in the Order of Kali, one of a handful of sisterhoods of highly trained elite warriors. Armed with blades whose metal is imbued with magic and guided by a strict code of conduct, the Orders are sworn to keep the peace and protect the people of Asiana. Kyra has pledged to do so—yet she secretly harbors a fierce desire to avenge her murdered family.

When Tamsyn, the powerful and dangerous Mistress of Mental Arts, assumes control of the Order, Kyra is forced on the run. She is certain that Tamsyn committed murder in a twisted bid for power, but she has no proof.

Kyra escapes through one of the strange Transport Hubs that are the remnants of Asiana's long-lost past and finds herself in the unforgiving wilderness of a desert that is home to the Order of Khur, the only Order composed of men. Among them is Rustan, a disillusioned Marksman whose skill with a blade is unmatched. He understands the desperation of Kyra's quest to prove Tamsyn's guilt, and as the two grow closer, training daily on the windswept dunes of Khur, both begin to question their commitment to their Orders. But what they don't yet realize is that the line between justice and vengeance is thin . . . as thin as the blade of a knife.
BUY ON
I received an e-ARC from Edelweiss in exchange for an honest review.
The captivating world of Asiana awaits you in this stunning debut of Asian inspired fantasy! Kyra and her order of female assassins with telepathic blades rule over Asiana along with the other orders, keeping the peace and bringing justice. When betrayal strikes and Kyra escapes to the desert on the other side of Asiana and the male order of Khur, she and her new ally Rustan will discover where justice ends and vengeance begins.
I loved the world-building! I felt like I was traveling through a deserted Asia in a post-dystopian-fantasy world. Even the names are of Asian origin, not to mention how vivid and real the world felt.
Kyra and her friends have a strong bond and I liked how Kyra was a strong character.
While the romance was slow, it developed and it was very sweet.
This book deserves more attention!
About the author:
Born and raised in India, Rati Mehrotra now lives and writes in lovely Toronto. She is represented by Mary. C. Moore of Kimberley Cameron & Associates.
Markswoman
is her first book.
You can check out her short stories at
http://ratiwrites.com/short-fiction/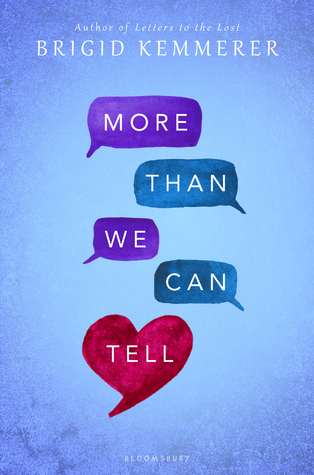 More Than We Can Tell by Brigid Kemmerer
My rating: 5 of 5 stars
Summary from Goodreads
*While this book exists in the same universe as
Letters to the Lost
, it is a standalone title.*
Rev Fletcher is battling the demons of his past. But with loving adoptive parents by his side, he's managed to keep them at bay...until he gets a letter from his abusive father and the trauma of his childhood comes hurtling back.
Emma Blue spends her time perfecting the computer game she built from scratch, rather than facing her parents' crumbling marriage. She can solve any problem with the right code, but when an online troll's harassment escalates, she's truly afraid.
When Rev and Emma meet, they both long to lift the burden of their secrets and bond instantly over their shared turmoil. But when their situations turn dangerous, their trust in each other will be tested in ways they never expected. This must-read story will once again have readers falling for Brigid Kemmerer's emotional storytelling.
PRE-ORDER ON
I received an e-ARC from NetGalley in exchange for an honest review.
I really wanted to have Rev's story! And I could be happier to get the chance and read about Rev and Emma! Thier stories are of both heartbreak, difficult family life but also they harbor the dangers of bullying, dysfunctional families and the dark corners of the Internet.
Rev is considered to be the freak of the school, but no one knows the scars he carries from the abuse he got from his father. He is the adopted son of a black couple (I need to mention it due to some spoiler in the book), who love him very much and try to support him! They also work as a foster home for children and teens.
Emma, on the other hand, has a workaholic mom and a father who is almost absent from their lives. She is very smart and has also coded her own RPG game. When she starts receiving bullying messages in the game she will develop a friendship with one of her online friends.
I won't spoil the rest of the book, but there are some VERY, VERY important lessons anyone can take from this book. Friends, family and your closest people can be important to you and never let doubt and fear cloud your judgment. You can always ask for help too!
This is a strong-willed book for any teen out there and it offers love and compassion to anyone who needs it.
About the author:
BRIGID KEMMERER is author of LETTERS TO THE LOST (Bloomsbury; April 4, 2017), a dark, contemporary Young Adult romance; THICKER THAN WATER (Kensington, December 29, 2015), a New Adult paranormal mystery with elements of romance; and the YALSA-nominated Elemental series of five Young Adult novels and three e-novellas which Kirkus Reviews calls "refreshingly human paranormal romance" and School Library Journal describes as "a new take on the supernatural genre." She lives in the Baltimore area with her husband and four sons.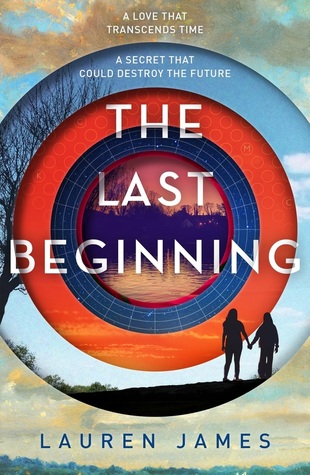 The Last Beginning by Lauren James
My rating: 5 of 5 stars
Summary from GoodReads
Sixteen years ago, after a scandal that rocked the world, teenagers Katherine and Matthew vanished without a trace. Now Clove Sutcliffe is determined to find her long lost relatives. But where do you start looking for a couple who seem to have been reincarnated at every key moment in history? Who were Kate and Matt? Why were they born again and again? And who is the mysterious Ella, who keeps appearing at every turn in Clove's investigation?
For Clove, there is a mystery to solve in the past and a love to find in the future.
BUY ON
I received an e-copy from Edelweiss in exchange for an honest review.
I had been looking for a chance to read the sequel to Lauren James's series for a long time! Imagine my surprise when Edelweiss was offering an e-copy of the book!
The story takes place years after the end of "The Last Together" and Clove will discover the secret behind her parents' existence and will be catapulted back into the past! Not to mention that she will meet the mysterious Ella and sparks will fly!
I am not going to say much because the mystery and the brilliance of this novel lies to the secrets hidden behind notes, diagrams, and pictures, but you can also spot a cameo appearance of Alice Oseman in the book!
And it did give me a feeling of Doctor Who along the way! Time travel and romance together are always my favorite elements in a book!
About the author:
Lauren James was born in 1992 and is the British Young Adult author of
The Next Together series
and
The Loneliest Girl in the Universe
. She graduated in 2014 from the University of Nottingham, UK, where she studied Chemistry and Physics.
She started writing during secondary school English classes, because she couldn't stop thinking about a couple who kept falling in love throughout history. She sold the rights to the novel when she was 21, whilst she was still at university.
The Next Together has been translated into five languages worldwide. It was described by The Bookseller as 'funny, romantic and compulsively readable' and Kirkus as 'An ambitious, promising premise . . . James is one to watch'. It was longlisted for the Branford Boase Award, a prize given to recognise an outstanding novel by a first time writer.
Her other novels include The Last Beginning, the epic conclusion to The Next Together which was named one of the best LGBT-inclusive works for kids and young adults by the Independent, who called it 'ideal for teenagers. The Last Beginning is on the ball'. A short story set in the world of The Next Together series, Another Together, is also available.
The Loneliest Girl in the Universe was inspired by a Physics calculation she was assigned at university. Lauren is a passionate advocate of STEM further education, and all of her books feature scientists in prominent roles.
She lives in the West Midlands and is an Arts Council grant recipient.
Website | 🐦Twitter | 📸 Instagram | 💻 Tumblr | 🌍 Facebook
📧 Mailing list | | 📝Wattpad |✍️ Review Blog |🎶 Spotify | 📽 Youtube