I apologise for the decreasing posts. I've been very tired from my day job and I am always trying to catch up with my reading. BUT, I'm also organising a swag giveaway so stay tuned!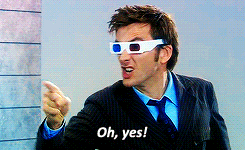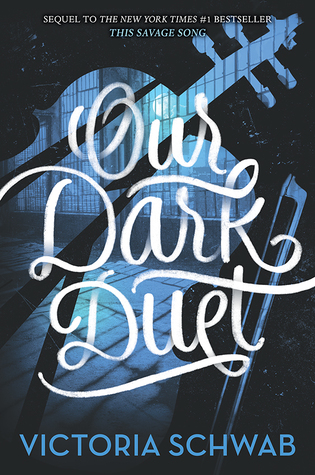 Our Dark Duet by Victoria Schwab
My rating: 5 of 5 stars
Summary from GoodReads
THE WORLD IS BREAKING. AND SO ARE THEY.

KATE HARKER isn't afraid of monsters. She hunts them. And she's good at it.

AUGUST FLYNN once yearned to be human. He has a part to play. And he will play it, no matter the cost.

THE WAR HAS BEGUN.

THE MONSTERS ARE WINNING.

Kate will have to return to Verity. August will have to let her back in. And a new monster is waiting—one that feeds on chaos and brings out its victims' inner demons.

Which will be harder to conquer: the monsters they face, or the monsters within?
BUY ON
The anticipated and final sequel to Monsters of Verity left me with bittersweet feelings. I read it in a period where EVERY book I read was leaving me with sad emotions or an ending that left me crying like a baby.
In "Our Dark Duet" August, my sweet monster boy, is trying to help humans defend Verity, while Kate discovers that there is something even more dangerous in the city of Prosperity. The book was filled with action and many, many emotions. If it were an anime, it would be a slasher one.
In adittion, I loved the scenes with August and Kate and I mourn their lost time and the chances that went away for them. But in the end, this book, was not about the characters but the readers and the people who may seem monstrous but try to do good deeds while at the same time, those who claim to be human enough are rotten and monstrous on the inside.
This year has been a truly good one for Victoria Schwab and I am really excited to have the chance and read more stories from her in the future. I can only hope that there'll be a HEA too!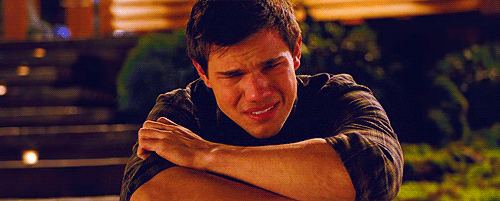 The first book of the series:
AMAZON | BOOK DEPOSITORY
About the author:
Victoria is the product of a British mother, a Beverly Hills father, and a southern upbringing. Because of this, she has been known to say "tom-ah-toes," "like," and "y'all."
She also tells stories.
She loves fairy tales, and folklore, and stories that make her wonder if the world is really as it seems.
Eliza and Her Monsters by Francesca Zappia
My rating: 5 of 5 stars
Summary from GoodReads
Eighteen-year-old Eliza Mirk is the anonymous creator of Monstrous Sea, a wildly popular webcomic, but when a new boy at school tempts her to live a life offline, everything she's worked for begins to crumble.
Scott Westerfeld's Afterworlds meets Nimona in this novel about art, fandom, and finding the courage to be yourself. Features illustrations by the author throughout. Perfect for readers of Rainbow Rowell's Fangirl, this is the second novel by the acclaimed author of Made You Up.
In the real world, Eliza Mirk is shy, weird, smart, and friendless. Online, Eliza is LadyConstellation, the anonymous creator of a popular webcomic called Monstrous Sea. With millions of followers and fans throughout the world, Eliza's persona is popular. Eliza can't imagine enjoying the real world as much as she loves her digital community. Then Wallace Warland transfers to her school, and Eliza begins to wonder if a life offline might be worthwhile. But when Eliza's secret is accidentally shared with the world, everything she's built—her story, her relationship with Wallace, and even her sanity—begins to fall apart. With pages from Eliza's webcomic, as well as screenshots from Eliza's online forums, this uniquely formatted book will appeal to fans of Noelle Stevenson's Nimonaand Rainbow Rowell's Fangirl.
BUY ON
On a happier note, this book has been one of the sweetest, funniest and emotional ones of its type! It summarizes everything I am too. I wrote fanfiction along with my first novel, I ADORE reading webcomics and also being an author on the
Tapas app
, I get to see amazing books and comics every day!
While I am not Eliza and I can't draw sh*t, I love the beauty of the fiction world as also the fandom.
Eliza was an interesting character, who was bullied at school, because she was different, yet at the same time the people who bullied her were the same ones who loved her comic! Talk about irony here.
Wallace also was a truly honest and heartfelt character. He had his own family problems, just like Eliza but he never stopped believing in his dreams. Eliza's parents on the other hand, needed some serious headbutting. I didn't like them, they felt too detached and at some point they gave me the impression that they didn't care about their child. Only after sh*t hit the fan they BEGAN caring!
The art in the book was beautiful and I wouldn't mind seeing it in a comic too! I love books like this one and I love how known themes were approached differently, setting a new example. I'll definitely read more from Francesca Zappia!
About the author:
YA writer represented by Louise Fury of the Bent Agency. MADE YOU UP (2015), ELIZA AND HER MONSTERS (now available).
The Children of Hypnos serial on Tumblr (
http://childrenofhypnos.com
) and Wattpad (
https://www.wattpad.com/story/9547883...
) every Mon&Fri @ 1PM EST.
I like writing, reading, drawing, and scaring my friends.
I'm on Twitter @ChessieZappia, Tumblr (
http://exeuntstormtroopers.tumblr.com
), Instagram @ChessieZappia, Pinterest (
https://www.pinterest.com/francescaza...
), and on my website,
www.francescazappia.com
.