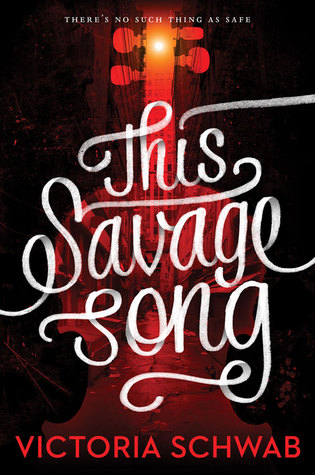 This Savage Song by Victoria Schwab
My rating: 5 of 5 stars
Summary from GoodReads
There's no such thing as safe in a city at war, a city overrun with monsters. In this dark urban fantasy from author Victoria Schwab
,
a young woman and a young man must choose whether to become heroes or villains—and friends or enemies—with the future of their home at stake. The first of two books.
Kate Harker and August Flynn are the heirs to a divided city—a city where the violence has begun to breed actual monsters. All Kate wants is to be as ruthless as her father, who lets the monsters roam free and makes the humans pay for his protection. All August wants is to be human, as good-hearted as his own father, to play a bigger role in protecting the innocent—but he's one of the monsters. One who can steal a soul with a simple strain of music. When the chance arises to keep an eye on Kate, who's just been kicked out of her sixth boarding school and returned home, August jumps at it. But Kate discovers August's secret, and after a failed assassination attempt the pair must flee for their lives.
BUY ON
I really need someone to give Victoria Schwab an author's Oscar because she outdid herself with this book! If Vicious had set the difference between heroes and villains, A Darker Shade of Magic for the ones who need to find their true selves, then This Savage Song was a masterpiece about humans who are monsters and monsters who want to be human.
Kate is the daughter of the most horrible mafia-like boss of Verity, a city divided in two where if you want to live you must pay for your protection or die trying to hide from the monsters who rule in the night. She wants to be like her father, to prove her worth and she does make some very hard-core choices in order to succeed.
Now Augustus, my sweet precious love, is a monster who wants to live like a human. His nature is alluring and deadly, yet he loves music, loves anything mundane and wishes he was different in order to blend in.
(credit goes to the artist)
How those two come together? Well, that gives a lot from the plot and I never spoiler! ;) But the descriptions and the worldbuilding are phenomenal just like the rest of Victoria's books and despite the fact that there is no romance, I couldn't help but think that at the end of the book, after everything Kate and Augustus had been through, there was some kind of closeness between them.
I can only hope.
If you want music and creepy monsters, ethics and a sweet male character, who needs many hugs by the way, then this is your book! ;)
About the author:
Victoria is the product of a British mother, a Beverly Hills father, and a southern upbringing. Because of this, she has been known to say "tom-ah-toes," "like," and "y'all."
She also tells stories.
She loves fairy tales, and folklore, and stories that make her wonder if the world is really as it seems.
Website