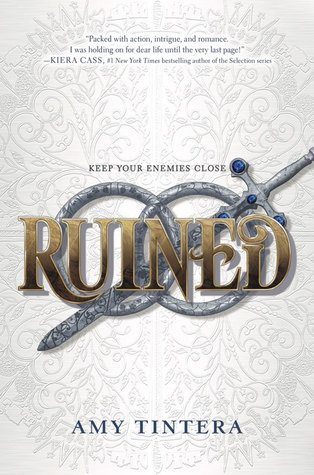 Ruined by Amy Tintera
My rating: 4 of 5 stars
Summary from GoodReads
A revenge that will consume her. A love that will ruin her.

Emelina Flores has nothing. Her home in Ruina has been ravaged by war. She lacks the powers of her fellow Ruined. Worst of all, she witnessed her parents' brutal murders and watched helplessly as her sister, Olivia, was kidnapped.

But because Em has nothing, she has nothing to lose. Driven by a blind desire for revenge, Em sets off on a dangerous journey to the enemy kingdom of Lera. Somewhere within Lera's borders, Em hopes to find Olivia. But in order to find her, Em must infiltrate the royal family.

In a brilliant, elaborate plan of deception and murder, Em marries Prince Casimir, next in line to take Lera's throne. If anyone in Lera discovers Em is not Casimir's true betrothed, Em will be executed on the spot. But it's the only way to salvage Em's kingdom and what is left of her family.

Em is determined to succeed, but the closer she gets to the prince, the more she questions her mission. Em's rage-filled heart begins to soften. But with her life—and her family—on the line, love could be Em's deadliest mistake.
BUY ON
REVIEW
While many pitched this book in comparison with other books I haven't read, I simply dove into this story because it was Amy Tintera. I had loved her "Reboot" duology, which was dystopian and was surprised to learn that she would also write fantasy. Her writing is unique with a livid voice.
So, Emelina Flores, daughter of the most fierce Queen of the Ruined, has lost everything. Her powerful sister, her homeland and also she has no powers. Armed with her wit, deception and a crazy plan, she posts as the fiance to Prince Casimir who she marries hoping to take her revenge.
I liked how the world was built. There is discrimination against the Ruined, people who have abilities similar to that of elementals, a wide gap between poor and rich as also politics and secrets. I liked how badass Em was. Determined, despite the scrutiny she gets from her own people, because she doesn't have any Ruined powers, she marches into enemy territory knowing that she might die.
Casimir may be a weak character, who later finds the courage to stand up against his parents and find an ally to Em. The romance is slow burning and I prefered that to the insta-romance I've seen lately. The ending was kind of a cliffhanger which left me with the need to read more!
If you love a good fantasy this is recommended. ;)
About the author:
Website
Twitter