Hello and welcome to the Release Blitz for the most anticipated book of summer! So let me first wish Happy Bookish Birthday to the authors of "My Lady Jane" Cynthia Hand, Brodi Ashton and Jodi Meadows!
Each one of them are amazing and I love their books! So here's some info about the book and don't forget to grab your copies! (affiliate link included)
About the book: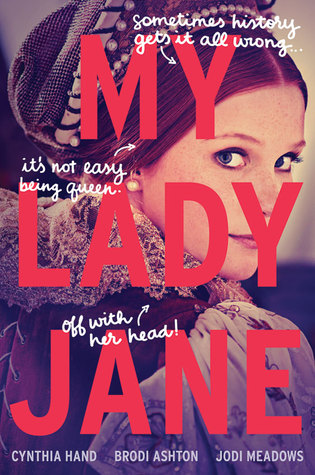 Summary from GoodReads
The comical, fantastical, romantical, (not) entirely true story of Lady Jane Grey. In My Lady Jane, coauthors Cynthia Hand, Brodi Ashton, and Jodi Meadows have created a one-of-a-kind fantasy in the tradition of The Princess Bride, featuring a reluctant king, an even more reluctant queen, a noble steed, and only a passing resemblance to actual history—because sometimes history needs a little help.

At sixteen, Lady Jane Grey is about to be married off to a stranger and caught up in a conspiracy to rob her cousin, King Edward, of his throne. But those trifling problems aren't for Jane to worry about. Jane gets to be Queen of England.
BUY THE BOOK FROM AMAZON | BOOK DEPOSITORY
A fun fact about the book which I liked very much was the fiance for Jane and what he always liked to do. I couldn't help but share the cover for the UK edition of the book which shows exactly that!
Also rewriting the History adding a supernatural element in it couldn't make the book more interesting!
About the authors:
Jodi Meadows lives and writes in the Shenandoah Valley, Virginia, with her husband, a Kippy*, and an alarming number of ferrets. She is a confessed book addict, and has wanted to be a writer ever since she decided against becoming an astronaut. She is the author of the INCARNATE Trilogy and the ORPHAN QUEEN Duology (HarperCollins/Katherine Tegen), and a coauthor of the forthcoming MY LADY JANE (HarperTeen). Visit her at www.jodimeadows.com
*A Kippy is a cat.
Website
Because of two parents who were Greek myth geeks, I grew up thinking the latest fashion trends were inspired by Aphrodite, and a good conversational opener was, "So, which mythological character do you most resemble?" Despite these social shortcomings, I found a great husband who's always my first reader. We live in Utah with our two young boys, who still have no idea why I'm at the computer all the time.

I received a Bachelor's degree in Journalism from the University of Utah and a Master's degree in International Relations from the London School of Economics.
Website
Twitter