Fire & Flood by Victoria Scott
My rating: 5 of 5 stars
Summary from GoodReads
Time is slipping away....

Tella Holloway is losing it. Her brother is sick, and when a dozen doctors can't determine what's wrong, her parents decide to move to Montana for the fresh air. She's lost her friends, her parents are driving her crazy, her brother is dying—and she's helpless to change anything.

Until she receives mysterious instructions on how to become a Contender in the Brimstone Bleed. It's an epic race across jungle, desert, ocean, and mountain that could win her the prize she desperately desires: the Cure for her brother's illness. But all the Contenders are after the Cure for people they love, and there's no guarantee that Tella (or any of them) will survive the race.

The jungle is terrifying, the clock is ticking, and Tella knows she can't trust the allies she makes. And one big question emerges: Why have so many fallen sick in the first place?
BUY THE BOOKS ON AMAZON (click the covers below)
PRE-ORDER Victoria's NEW book "TITANS" (available on 2016)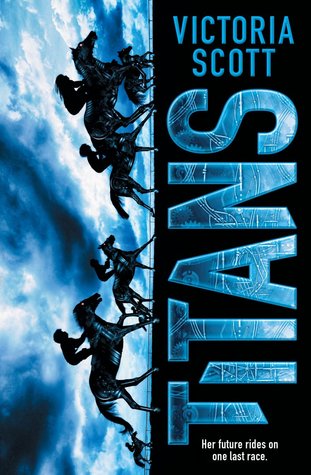 REVIEW
The idea of "Fire and Blood" was based loosely on a parallel version of Hunger Games. Of course don't expect the drama of that trilogy but instead get prepared for...Pandoras!
But let's take it from the beginning. Tella's brother is very sick and nothing can be done to save him. But when she discovers a box with a message for her in it. She will jump into the chance to get the Cure, the medicine that can heal her brother. To do that she must compete in a series of races across 4 different ecosystems with other participants who want the Cure for a family memeber of their own.
So where does that leave me? I was familiar with Victoria's other series "Dante Walker" (POW!) and I was surprised of the way she took your-next-door gril and made her strong not only for herself but also for the others who traveled with her.
Tella along with her genetically engineered pet, Maddox, and a group of other people travel through jungle, desert, sea and mountain as the clock ticks slowly realizing the real reason behind Brimstone Bleed.
And then comes Guy. The Green Berret as Tella likes to call him he is strong swoon worthy and the reason Tella gets to survive in the first two races. His Pandora is a tiger, which spits fire and in both books we see a variety of animals, the Pandoras, which have unique abilities.
I enjoyed both books and I should say from now that, to my opinion the story isn't over yet. There is a need for another one sequel on the series, because "Salt and Stone" ended with many questions which I'd love to be answered in the future.
The series so far was an amazing thrill so far and desperately need more!
About the author: