An Enchantment of Ravens by Margaret Rogerson
My rating: 5 of 5 stars
Summary from GoodReads
A skilled painter must stand up to the ancient power of the faerie courts—even as she falls in love with a faerie prince—in this gorgeous debut novel.
Isobel is a prodigy portrait artist with a dangerous set of clients: the sinister fair folk, immortal creatures who cannot bake bread, weave cloth, or put a pen to paper without crumbling to dust. They crave human Craft with a terrible thirst, and Isobel's paintings are highly prized. But when she receives her first royal patron—Rook, the autumn prince—she makes a terrible mistake. She paints mortal sorrow in his eyes—a weakness that could cost him his life.
Furious and devastated, Rook spirits her away to the autumnlands to stand trial for her crime. Waylaid by the Wild Hunt's ghostly hounds, the tainted influence of the Alder King, and hideous monsters risen from barrow mounds, Isobel and Rook depend on one another for survival. Their alliance blossoms into trust, then love—and that love violates the fair folks' ruthless laws. Now both of their lives are forfeit, unless Isobel can use her skill as an artist to fight the fairy courts. Because secretly, her Craft represents a threat the fair folk have never faced in all the millennia of their unchanging lives: for the first time, her portraits have the power to make them feel.
BUY ON
One of the best and most anticipated books of September was also "An Enchantment of Ravens". September had truly too many amazing books to count, so I'll keep my raving short.
This book is the debut novel by Margaret Rogerson and it follows Isobel, a young and talented artist who makes portraits for the Fae.
When Rook, the Autumn Prince arrives at her cottage asking for a portrait of himself, an adventure will begin.
I enjoyed Isobel; she is smart, practical and she is not swayed by the sugar-coated life of the Fae and its immortality. Her town is in the between of the Fae and the Human world (where there is no magic) and every villager wants to impress the Fae with their Craft. Be it clothes, paintings or any other kind of craftsmanship.
Rook was simply amazing! When I first read the blurb, I thought that Rook was the parallel Lucien from the ACOTAR series, but when I saw him through Isobel's eyes, I realised that he had suffered far more than he truly let on. He was also very funny in his way, trying to understand Isobel and also very brave.
The ending of the book left me with a serious question as to the protagonists future. I truly loved it, I really did, but still, I can't help but feel this nagging fear that I'll have a Tessa-Will life or an Alec-Magnus one...
About the author: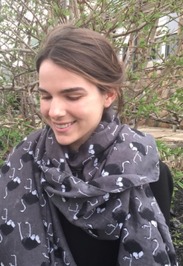 Margaret writes fantasy for young adult readers. Her books draw inspiration from old fairy tales, because she loves stories in which the beautiful and the unsettling are sometimes indistinguishable. She lives near Cincinnati, Ohio, and when she's not reading or writing she enjoys drawing, watching documentaries, making pudding, gaming, and exploring the outdoors in search of toads and mushrooms.