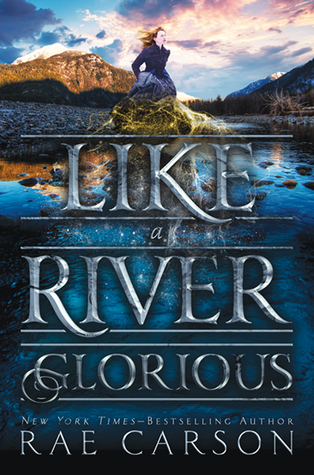 Like a River Glorious by Rae Carson
My rating: 5 of 5 stars
Summary from GoodReads
After a harrowing journey across the country, Leah Westfall and her friends have finally arrived in California and are ready to make their fortunes in the Gold Rush. Lee has a special advantage over the other new arrivals in California—she has the ability to sense gold, a secret known only by her handsome best friend Jefferson and her murdering uncle Hiram.
Lee and her friends have the chance to be the most prosperous settlers in California, but Hiram hasn't given up trying to control Lee and her power. Sabotage and kidnapping are the least of what he'll do to make sure Lee is his own. His mine is the deepest and darkest in the territory, and there Lee learns the full extent of her magical gift, the worst of her uncle, and the true strength of her friendships. To save everyone, she vows to destroy her uncle and the empire he is building—even at the cost of her own freedom.
The second epic historical fantasy in the Gold Seer trilogy by Rae Carson, the acclaimed author of
The Girl of Fire and Thorns.
BUY ON
"Walk on Earth a Stranger" was one of the best cowboy-western books I've read in 2015. Rae Carson is a top author for me, since the day I discovered her debut series "Girl of Fire and Thorns".
In the sequel Lee and her firends begin their lives as they try to settle in California. There's almost no law, there are thieves and suspicious people and Lee's uncle still wants her for her gift.
I truly enjoyed the sequel. There is action from the first scene and also love blossoms not only for Lee but also for other characters as well. Many issues are also touched in this book. The behavior against Native Americans, how the Chinese did play an important role in this time of the American history as also how religion can be used for selfish reasons.
Despite Lee's fear, she still manages to be a strong willed girl with her favorite horse and Jefferson. I loved how sweet their relationship became, keeping the appropriate social rules of course. And while most of the first book's enemies were finally gone in this book, I still can't help but feel that another, more powerful one has appeared.
I can only hope that the final book will be just as amazing as these two have been so far. ;)
Don't miss the first book of the series!
About the author:
I write books about teens who must do brave things. I'm originally from California, but I now live in Arizona with my husband, who is the smartest and therefore sexiest man I know.
My books tend to contain lots of adventure, a little magic and romance, and smart girls who make (mostly) smart choices. I especially love to write about questions I don't know the answers to.