The Seeker: by Pamela DuMond
My rating: 5 of 5 stars
Summary from GoodReads
USA Today
Bestselling author, Pamela DuMond, pitched the real life ERIN BROCKOVICH story to 'Hollywood,' where it became the smash hit movie.
Now she brings readers THE SEEKER, the third book in The Messenger Mortal Beloved Series, "a gritty and gorgeous", time travel romantic thriller.
Time Traveler. Seeker. Deceiver. Lies.
Madeline's a Messenger: time traveling across lifetimes and delivering messages that could change one life or many.
She's finally dating her true love, Samuel, in the present day, but when her new mentors send her on increasingly dangerous missions, the un-thinkable happens.
Now Madeline must journey into the darkest corners of history seeking answers from the wisest Messengers and Hunters in the hope to reverse the consequences of her actions before Samuel, her mortal beloved, is lost for an eternity.
But tearing time's fabric reveals hidden secrets and lies, and Madeline discovers she is part of a conspiracy much greater than her wildest dreams.
Grab. This. Book!
BUY FROM
And don't forget the other two books of the series!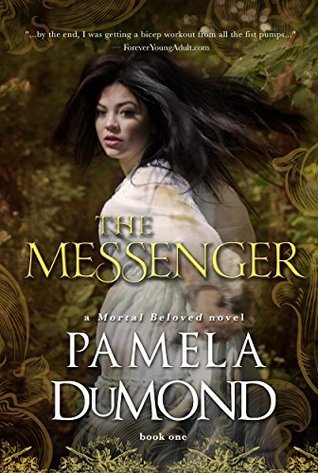 I received an ARC from the author in exchange for an honest review.
I really liked the sequel. Madeline must travel yet again in the past in order to save Samuel and discover more secrets concerning her past and family. From Berlin of Cold War to the deserts of Palmyra Madeline explores through time the deepest meaning of love and family.
The world building is amazing and the story flows quickly making the reader carve more. I realy hope this series will have more sequels because there are still secrets and past times to be explored!
About the author:
USA TODAY Bestselling Author Pamela DuMond discovered and pitched the Erin Brockovich story to 'Hollywood.' Her time travel romance, The Messenger, was optioned for Film/TV.
She writes stories with heart, romance, some tears and always giggles.
The Mortal Beloved Time Travel Romance:
The Messenger (#1)
The Assassin (#2)
The Seeker (#3)
Ladies-in-Waiting Romantic Comedy:
Part-time Princess (#1)
Royally Wed (#2)
The Story of You and Me (Driven, #1)
The Annie Graceland Cozy Mysteries:
Cupcakes, Lies, and Dead Guys (#1)
Cupcakes, Sales, and Cocktails (#2)
Cupcakes, Pies, and Hot Guys (#3)
Cupcakes, Paws, and Bad Santa Claus (#4)
Cupcakes, Diaries, and Rotten Inquiries (#5)
Cupcakes, Bats and Scare-dy Cats (#6)
Annie Graceland Cupcakes Cozy Mysteries: Boxed Set
Self-help:
Staying Young: Simple Techniques to Look and Feel Young.
Pamela loves the beach, working out, TV, movies, animals, her family and friends. She belongs to RWA, and lives in Venice, California with her fur-babies.
Find more info and sign up for her newsletter at
www.pameladumond.com
.
Twitter
Thanks!