The buddy read with @Keionda Hearts Books and @*L-Booknerd* continues! I managed to finish re-reading the next two books as audiobooks and boy did I enjoy it even more! Just for your info, the narrator of the LUX series also happens to be the one who narrates the "Guild Hunter" series by Nalini Signh! I was very pleased with the choice and I liked her even more!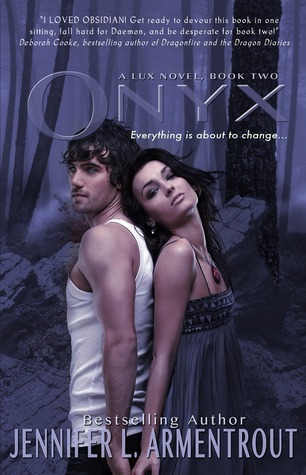 ONYX Synopsis:
Being connected to Daemon Black sucks…

Thanks to his alien mojo, Daemon's determined to prove what he feels for me is more than a product of our bizarro connection. So I've sworn him off, even though he's running more hot than cold these days. But we've got bigger problems.

Something worse than the Arum has come to town…

The Department of Defense are here. If they ever find out what Daemon can do and that we're linked, I'm a goner. So is he. And there's this new boy in school who's got a secret of his own. He knows what's happened to me and he can help, but to do so, I have to lie to Daemon and stay away from him. Like that's possible. Against all common sense, I'm falling for Daemon. Hard.

But then everything changes…

I've seen someone who shouldn't be alive. And I have to tell Daemon, even though I know he's never going to stop searching until he gets the truth. What happened to his brother? Who betrayed him? And what does the DOD want from them—from me?

No one is who they seem. And not everyone will survive the lies…
Below are the covers of the first editions for the four books
And these are the bundles of all the books above with the fifth and final book too!
LUX: Beginnings
LUX: Consequences
OPPOSITION
ONYX AND OPAL REVIEW
The fun continues on the two books of Onyx and Opal. Katy knows after the events of Obsidian that Daemon has become her leech and despite her annoyance she can't help it. I mean, even I wouldn't help it! Especially if there were cookies involved! ;)
But there is trouble on the horizon. The DOD has come and they have a hard time our heroes, since being close to the Lux is a danger for Katy. There were some moments in which I thought that Daemon was too unfair to Katy and she also tried her best to help everyone.
From Onyx to Opal the events move faster and there is more action involving the DOD and Katy's gang. But, on the emotional side we finally have the Katy and Daemon swoony moments as also the introduction of Luc. I like the boy and his attitude as also his sharp tongue. Dee has the short end of the straw but knowing with whom she will end with makes me happy for her!
The ending of Opal left me with tears even in the re-read! Off to the next book!
On December 1st, "Oblivion" is going to be released. The Kindle version includes Daemon's POV from all three books, while the print version will include only "Obsidian". We all know how we like our glowing boy but I am sure you'd love to have more of this particular character!
OBLIVION Synopsis:

Experience the epic love story of OBSIDIAN as told by its hero, Daemon Black…

I knew the moment Katy Swartz moved in next door, there was going to be trouble. Lots of it. And trouble's the last thing I need, since I'm not exactly from around here.
My people arrived on Earth from Lux, a planet thirteen billion light years away. Plus, if there's one thing I know, it's that humans can't be trusted. We scare them. We can do things they only dream about, and honestly, we make them look weak as hell. 'Cuz they are. But Kat is getting to me in ways no one else has, and I can't stop myself from wanting her—or wanting to use my powers to protect her.
She makes
me
weak, and I'm the strongest of our kind, tasked with protecting us all. So this one simple girl…she can mean the end for us. Because the Luxen have an even bigger enemy—the Arum, and I need to stay on my game. Falling for Katy—a human—won't just place her in danger.It could get us
all
killed, and that's one thing I'll never let happen...
OBLIVION Pre-Order
About Jennifer L. Armentrout:
# 1 New York Times and # 1 International Bestselling author Jennifer lives in Martinsburg, West Virginia. All the rumors you've heard about her state aren't true. When she's not hard at work writing, she spends her time reading, watching really bad zombie movies, pretending to write, and hanging out with her husband and her Jack Russell Loki. Her dreams of becoming an author started in algebra class, where she spent most of her time writing short stories….which explains her dismal grades in math. Jennifer writes young adult paranormal, science fiction, fantasy, and contemporary romance.
She is published with Spencer Hill Press, Entangled Teen and Brazen, Disney/Hyperion and Harlequin Teen. Her book Obsidian has been optioned for a major motion picture and her Covenant Series has been optioned for TV. Her young adult romantic suspense novel DON'T LOOK BACK was a 2014 nominated Best in Young Adult Fiction by YALSA. She also writes Adult and New Adult contemporary and paranormal romance under the name J. Lynn. She is published by Entangled Brazen and HarperCollins.