FINALLY! The new cover of Susan's third installment of Angelfall series is here!
Entertainment Weekly
revealed the cover yesterday and shared a first excerp! The book will be available on May 12th and you can already pre order the third book!
Summary from GoodReads
End of Days
is the explosive conclusion to Susan Ee's bestselling
Penryn & the End of Days
trilogy.
After a daring escape from the angels, Penryn and Raffe are on the run. They're both desperate to find a doctor who can reverse the twisted changes inflicted by the angels on Raffe and Penryn's sister. As they set off in search of answers, a startling revelation about Raffe's past unleashes dark forces that threaten them all.
When the angels release an apocalyptic nightmare onto humans, both sides are set on a path toward war. As unlikely alliances form and strategies shift, who will emerge victorious? Forced to pick sides in the fight for control of the earthly realm, Raffe and Penryn must choose: Their own kind, or each other?
Find the rest of the Books on AMAZON
Angelfall
World After
PRE ORDER End of Days
See the Excerpt on Scribd
About the author: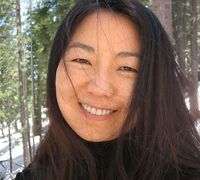 Susan Ee is the author of the bestselling books in the Penryn and End of Days trilogy,
Angelfall
and
World After
. Her books have been translated into over 20 languages and her short films have played at major festivals. She used to be a lawyer but loves being a writer because it allows her imagination to bust out and go feral.
Want to know when a new book comes out? Sign up
here
or Text SUSANEE to 75309 (US only).