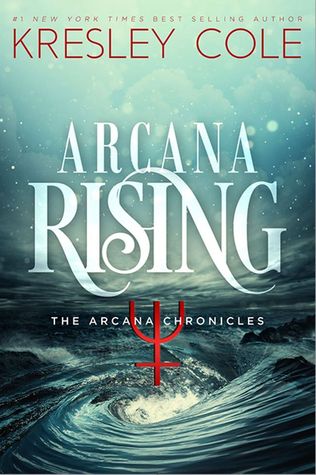 Arcana Rising by Kresley Cole
My rating: 5 of 5 stars
Summary from GoodReads
Losses mount and deadly new threats converge in this next action-packed tale of the Arcana Chronicles by #1 New York Times bestselling author Kresley Cole.

When the battle is done . . .
The Emperor unleashes hell and annihilates an army, jeopardizing the future of mankind--but Circe strikes back. The epic clash between them devastates the Arcana world and nearly kills Evie, separating her from her allies.

And all hope is lost . . .
With Aric missing and no sign that Jack and Selena escaped Richter's reach, Evie turns more and more to the darkness lurking inside her. Two Arcana emerge as game changers: one who could be her salvation, the other her worst nightmare.

Vengeance becomes everything.
To take on Richter, Evie must reunite with Death and mend their broken bond. But as she learns more about her role in the future--and her chilling past--will she become a monster like the Emperor? Or can Evie and her allies rise up from Richter's ashes, stronger than ever before?
BUY ON
REVIEW
So...HOW AM I SUPPOSED TO WAIT FOR ANOTHER YEAR?
*clears throat*
This will be a hard review to write, the third in a row after "Unknown" and "Nevernight", and in this one I actually can't say anything of the plot because it will spoil everything!
If you have read the novella "Day Zero", which was published in the summer, then you'll get the idea of how some characters actually feel and act in this book. Following the events of "Dead of the Winter" Evie will have to gather allies in order to fight the Emperor. This is the only tibit I'll give you of the plot.
What I really liked from this book was the introduction of the new Arcana as also the mention of the Minor Arcana. I didn't know that the other cards will also play a part in this destroyed world, not to mention that the GODS who actually created this game, did it because they were bored (apparently).
The whole book felt actually a deja vu to me, like I was watching 2012 unravel before me as Evie fights her way and at some point comes into some hurtful desicions.
Two things are sure in this book: your heart will be torn into million pieces and there is also a cliffhanger! So while I recommend this book, read at your own choice. ;)
Book Series (Amazon Links)
Book Depository
Poison Princess
Endless Knight
Dead of the Winter
About the author: