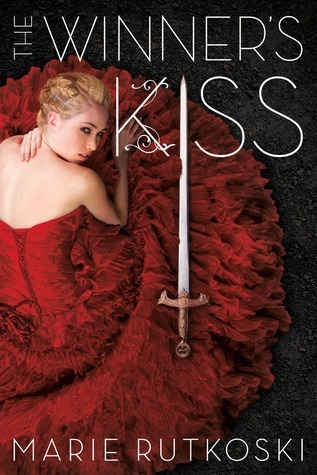 The Winner's Kiss by Marie Rutkoski
My rating: 5 of 5 stars
Summary from GoodReads
Some kisses come at a price.

War has begun. Arin is in the thick of it with untrustworthy new allies and the empire as his enemy. Though he has convinced himself that he no longer loves Kestrel, Arin hasn't forgotten her, or how she became exactly the kind of person he has always despised. She cared more for the empire than she did for the lives of innocent people—and certainly more than she did for him.

At least, that's what he thinks.

In the frozen north, Kestrel is a prisoner in a brutal work camp. As she searches desperately for a way to escape, she wishes Arin could know what she sacrificed for him. She wishes she could make the empire pay for what they've done to her.

But no one gets what they want just by wishing.

As the war intensifies, both Kestrel and Arin discover that the world is changing. The East is pitted against the West, and they are caught in between. With so much to lose, can anybody really win?
BUY ON AMAZON | BOOK DEPOSITORY
And don't miss the rest books of this amazing series! (with the old covers of course) Click the covers for details.
REVIEW
Before I began reading the final book of the trilogy I really had my objections concerning the new covers for the series. Yes, I love the old ones. I mean how can you not love the dresses and the cover model?
I really didn't want this book to end! After reading "The Raven King" I finally understood that 2016 is the year of concluding series. "The Winner's Kiss" was everything I expected; angst, suspicion, redemption, love and war. Kestrel and Arin became one of the best pairs in YA and I am pretty sure you will be more than willing to re-read the books.
The story begins with Kestrel in the road to the mines after the events of "The Winner's Curse" and Arin still deep into the deception of Kestrel's words. Even from the first chapters it was agonizing to know what had really happened and how Arin lost so much time wondering about Kestrel and her words. War is looming over the continent and the Emperor is determined to destroy both the Henari and Roshar's queenship over the other parts of their world.
I both loved and worried over some parts in the story. While the writing was epic and crafted down to every emotional detail, I was actually afraid for the lives of all the main characters. Roshar's character was a welcome distraction with his sarcasm and witty humor. I would totally read a novella dedicated to him.
The ending was very, very satisfying with a touch of bittersweet in it, especially between Kestrel and her father. I will anxiously wait for anything new written by Marie Rutkoski and hope that she will always deliver flawlessly written characters, even when they do have flaws!
About the author:
Website
Twitter