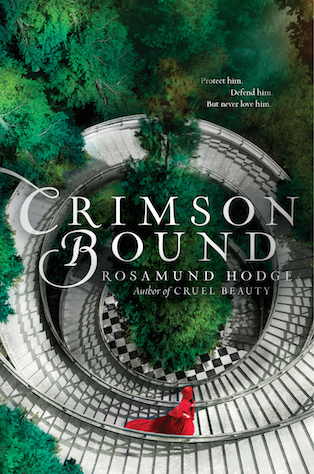 Crimson Bound by Rosamund Hodge
My rating: 4 of 5 stars
Summary from GoodReads
When Rachelle was fifteen she was good—apprenticed to her aunt and in training to protect her village from dark magic. But she was also reckless— straying from the forest path in search of a way to free her world from the threat of eternal darkness. After an illicit meeting goes dreadfully wrong, Rachelle is forced to make a terrible choice that binds her to the very evil she had hoped to defeat.

Three years later, Rachelle has given her life to serving the realm, fighting deadly creatures in an effort to atone. When the king orders her to guard his son Armand—the man she hates most—Rachelle forces Armand to help her find the legendary sword that might save their world. As the two become unexpected allies, they uncover far-reaching conspiracies, hidden magic, and a love that may be their undoing. In a palace built on unbelievable wealth and dangerous secrets, can Rachelle discover the truth and stop the fall of endless night?

Inspired by the classic fairy tale Little Red Riding Hood, Crimson Bound is an exhilarating tale of darkness, love, and redemption.

(This is a standalone novel, not part of the Cruel Beauty Universe.)
BUY ON AMAZON (click the covers for more details)
REVIEW
A second book by Rosamund Hodge...hmm. I was quite hesitant to begin the second retelling by this author since "
Cruel Beauty
" was published last year. I had liked the idea of the first book but I didn't, kind of enjoyed it.
Crimson Bound introduces us into a world similar to 17th-18th century Paris with an idea of Northern Europe. And don't forget the dark world of the forestborn, which are a darker version of the Fae we all know.
Rachelle becomes a guard for the King after a horrible accident in her past and soon she will have to deal with the rules of court and a boy with no hands who is considered a saint by the people.
Now this heroine is one I like. She has made horrible choices but she struggles to fix everything, even if that means she'll have to forfeit her own life.
Romance is still faint in this book and only during the ending is shown. There is action and struggle but the ending is worth it! Much better than the first book and I hope to see more of Rosamund's writing.
About the author: